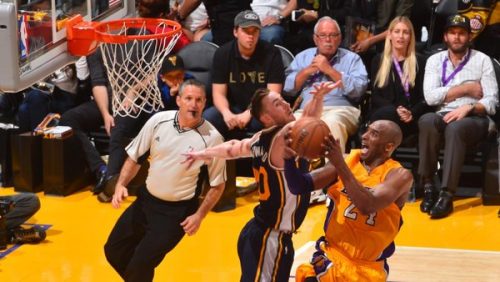 What a night in the NBA. The 2015-16 season became the Kobe Bryant farewell tour late in november and Kobe's legendary career came to an end in storybook fashion last night. How often did the do we see the villain become the hero beside in a Marvel comics script?
Staples Center was the place to be in the sporting world yesterday as future NBA hall of famer Kobe Bryant played the final game of his 20 year career and it was a night to remember. Not only did the Los Angeles Lakers defeat the Utah Jazz (101-96), Kobe Bryant showed us why he is the Black Mamba scoring 60 points in his last performance. Kobe was (22-50) from the field and dominated the fourth quarter scoring 23 points. Kobe's greatness goes without saying and it has been a pleasure watching Kobe play the game of basketball.
Watch a few highlights from Kobe's 60 point performance and watch Kobe Bryant speak on what he will miss most about the game of basketball with HHS1987's Eldorado (Terrell Thomas) below.
© 2016, Eldorado2452. All rights reserved.