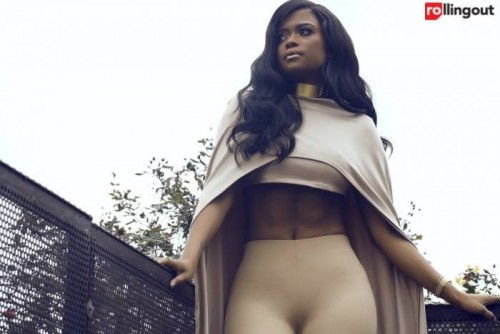 Digital curator and media maven Karen Civil just unveiled on Instagram that she'll be gracing the cover the April 2016 issue of Rolling Out magazine.
Since the release of her Be You & Live Civil book, the mogul has been everywhere; from embarking on her Live Civil tour – empowering others to follow their dreams – to being right beside Democratic presidential candidate Hillary Clinton, as Civil served as the face and voice for the launch 'African Americans for Hillary Clinton' event. Being the talk of the town recently, of course the cultural artige would receive backlash – following her most recent interview with Taxstone of Tax Season, as well as Buzzfeed's article regarding tweets from back in the day, but the digital strategic didn't let that get the best of her. In her cover story, Karen Civil talks about pushing forward, advice she has for looking for the best path to success, turning her love for social media into a full time career, and of course the journey that got her to where is today.
Here's a snippet from the cover story below:
When I first started blogging, it was about getting out new music and capturing artists working in the studio," Civil says. "This was before artists were so social. They weren't so hands-on then. But now, it's much more difficult for blogs because you have artists with their own SoundCloud pages and they are dropping music on their own social platforms. For blogs today, it's really about content creation and partnering with a brand. You can get the news in so many forms and so many places. A tweet now is enough to tell you about a story. People don't have to click to go to your site. [There are] just so many different places now for people to put out content with certain things and it's like a gift and a curse. It can definitely be overwhelming for someone who has a website. But I have to remember to keep moving with the times
Check out the full cover story on, RollingOut.com
© 2016, miixtapechiick. All rights reserved.