Writer: Livengoodlivin
Maryland trap emcee, Big Flock, recently got out of incarceration and "No Introduction" which premiered off The Fader, which has the Washington D.C., Maryland, and Virginia metropolitan area going ecstatic over his return to music. Now he follows up on the project with a heart and passion filled EP titled Last 5EVA
His return to music has co-signs by fellow Washington Metropolitan artists Rico Nasty, YBN Cordae, Bandhunta Izzy, 3oh Black, and Wale.
In the past, he released critically acclaimed project tiled "The Great Depression," which garnered almost 5 million streams and had co signs by Karen Civil, DJ Enuff, DJ Iceberg, and The Source. 21 Savage was also featured on the project.
Currently, he is in a good space in his life and is happy about returning to music. However, a side of him people have not seen yet is his astute Hop Hop acumen. In honor of our brand, HipHopSince1987, check out our quick Q/A below which illustrates his opinion and knowledge of the culture.
LL: How would you describe your style of hip hop?
Flock: : I would call it versatile trap. I can hit different cadences, similar to traditional hip hop but I add my own signature Flock trap flair to make it really pop and appeal to my fans.
LL: For your style of trap lyricism, who have you drawn influence from and why?
Flock: Gucci Mane and C-Murder influenced me to a great extent. Their cadences, content, and the way their music styles fit cohesively with their personality while still keeping up with hood culture is exactly what I aim for when I curate music. Having commercial appeal while making music you love is what I strive for.
LL: What particular artists in Hip Hop would you like to work with?
Flock: Nobody in particular, I just want to make good music with genuine artists who are willing to match the energy I bring. The realer the vibe the better the music we make.
LL: What album is your favorite album of all time and why?
Flock: Bad Azz by Boosie Bad Azz (Formerly Lil Boosie) because he kept it so real in his lyrics. It was no faking, just straight hood politics and real street sh*t. Every time I play that album, I just get so hyped to hit the studio and curate more music.
LL: Now, let's talk about the DMV, with all of the recent talent coming out of the area, what is your take on it?
Flock: What can I say? We are up next! 30h Black, Rico Nasty, YBN Cordae, Brent faiyaz, Kali Uchis, Ari Lennox, YungManny, Xanman, Black Fortune, Wale, Shy Glizzy, and many more names. It's our time to shine!
Big Flock recently teamed up with fellow upcoming Maryland star emcee YungManny in song "TPA."
LL: By next year, where do you see yourself at?
Flock: I see myself happy making great music and a lot of money. Currently, I'm in the studio, hungry to make hits!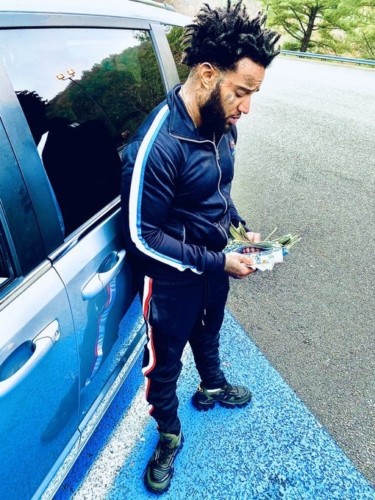 LL: What will separate you from the pack of other artists to guarantee the happiness you seek?
Flock: I feel like I have always been ahead of my time, some of the DMV native artists I mentioned can attest to this statement. Also, God made one Big Flock, so I'm a whole different breed and a very likeable one!
From our quick conversation, anybody who reads this can see he is serious about music. However, there's so much more to the creative trap genius. Aside from music, Flock and his team are coming up with ideas to give back to schools in the Washington D.C. metropolitan area in efforts to make his community a better and safer place. With all of the motivation, good morals, and reason to celebrate in the world, join Big Flock in his return by streaming Last 5Eva On all streaming platforms. You can follow him on all social media platforms at BigFlock187.
Stream Last 5eva Here
© 2019, Wilde Tuna. All rights reserved.