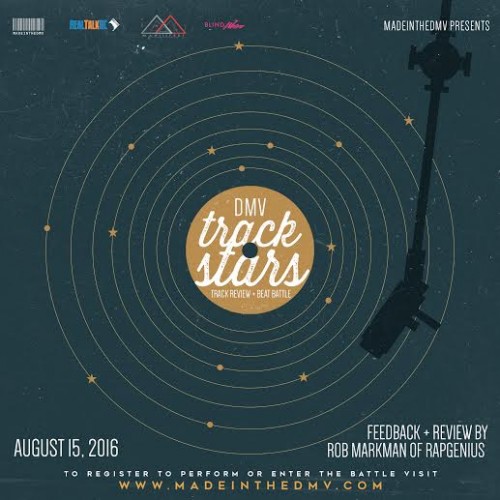 On August 15,2016 in Washington,DC , MadeInTheDMV will present DMVTrackStars at Blind Whino. DMV Track Stars is an arena for artists and producers to gain exposure and feedback in front of a panel of music industry officials. DMV Track Stars will include a beat battle & show.
DMV Track Stars was created to provide artists and producers expert insight, guidance, visibility, and prizes to help launch their careers to the next level, as well as highlight and elevate DMV's musical talent. Each participant will be critiqued by panelists on their performance/presentation and the track itself and be eligible for a prize pack from participating sponsors. Participants will be pre-qualified to perform/play for DMV Track Stars by existing buzz or selected from advance auditions.
The panel of judges for DMV Track Stars include Rob Markman of Genius formerly Rap Genius. Revolt TV's Social Media Producer Erin Simon, Grammy nominated songwriter/producer Kokayi, and Quinelle "Q" Holder CEO of Medium PR Agency whose clients include G.O.O.D music artist  Desiigner & Pharell's artist .The show will lineup will be announced soon. Auditions to perform or battle at DMV Track Stars will be held in advance on August 7-8 2016
Official sponsors for DMV Track Stars includes Real Talk DC , Maniifest Management , DMV Music Plug more. In an effort to raise awareness about the HIV/AIDS epidemic in DC MadeInTheDMV teamed up with Real Talk DC and local artist ArtshowOGK for the Pete Greene "Wake Up , Goddammit" Tshirt, which will be for sale online. All proceeds will go to Real Talk DC.
MadeInTheDMV will also be hosting Made University at Kelly Miller Middle school before DMV Track Stars. Made University is a private catered brunch and enrichment session for youth ages 12-21 in DC hosted by MadeInTheDMV along with RapGenius, Roc Nation's Emory Jones and more.  Made University was created to give youth exposure to music & arts through reading, writing, and oral presentation skills using hip-hop and storytelling. For attending participants Made University will include
Brunch with special invited guest speakers & presenters who will share their story with participating youth.

Participants will engage in a live presentation by Rap Genius including a mini writing session, a discussion & breakdown of popular music lyrics

Create RapGenius profiles and Creative Journals /Vision Board with participating Mentors, Speakers, and Panelist

Youth will also be able to participate in Q&A with special guest

Giveaways by participating sponsors.
© 2016, Niyah Nel. All rights reserved.