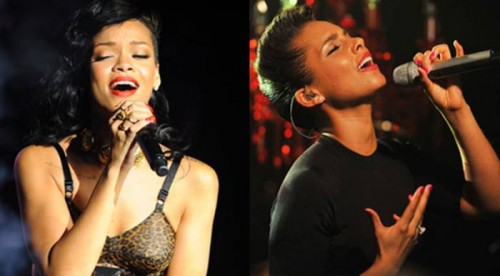 PARTYNEXTDOOR isn't known to give many interviews, until earlier this week, that is. The singer/songwriter first spoke with Rolling Stone and then The New York Times where he revealed some unknown tidbits about Rihanna's hit single, "Work." Aside from co-writing the song, PARTYNEXTDOOR revealed that he didn't "care for Caribbean music at the time" and considered giving the song to Alicia Keys. Apparently, however, Rihanna fought for the song and obviously, won.
Now we're kind of curious as to what it would have sounded like with Keys on it. The song is due for another remix, no? *wishfulthinking*
See more of what PARTYNEXTDOOR had to say in his interview:
ON MEETING RIHANNA: "The first feeling I got was, 'Why am I here?' All these guys have made hits already."
ON WORKING WITH DRAKE: "I openly share music with Drake, especially when it's time for him to have a project…I have an older brother I can text anytime, someone who's super invested because my name is tied into his. It's just creatives cooking. If he sees something in a song of mine that he feels he can spin around and make better, who am I to say I'm going to selfishly keep it? As a fan of music, that's wrong."
ON SUPERSTARDOM: "Of course I want to be a superstar, but it doesn't happen overnight, and I see that from having a mentor."
© 2016, MariaMyraine. All rights reserved.