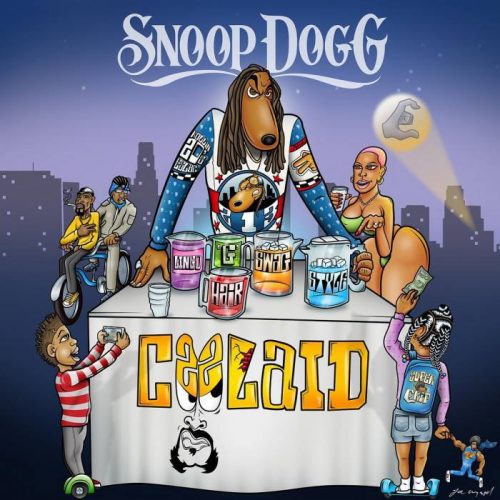 You might have seen the artwork for Snoop Dogg's forthcoming album, Coolaid floating around the net, as Tha DoggFather has recently unveiled the official artwork & tracklisting.
Coming in as the follow-up project to his 2015 release, BUSH, which was executive produced by Pharrell, Coolaid is set to make its debut soon… Like July 1st, soon.
The album will feature 20 tracks, with collabs coming from artists such as Too Short, Swizz Beatz, Jeremih, Wiz Khalifa, Trick Trick, E-40, Jazze Pha, Suga Free and October London.
The pre-order link is now available via iTunes. See below for the full tracklisting.
01. Legend
02. Ten Toes Down
03. Don't Stop (feat. Too Short)
04. Super Crip
05. Coolaid Man
06. Let Me See Em Up (feat. Swizz Beatz)
07. Point Seen Money Gone (feat. Jeremih)
08. Oh Na Na (feat. Wiz Khalifa)
09. My Carz
10. Two Or More
11. Affiliated (feat. Trick Trick)
12. Feel About Snoop
13. Light It Up (feat. Swizz Beatz)
14. Side Piece
15. Kush Ups (feat. Wiz Khalifa)
16. Double Tap (feat. E-40 & Jazze Pha)
17. Got Those
18. Let the Beat Drop (Celebrate) (feat. Swizz Beatz)
19. What If (feat. Suga Free)
20. Revolution (feat. October London)
© 2016, Niyah Nel. All rights reserved.