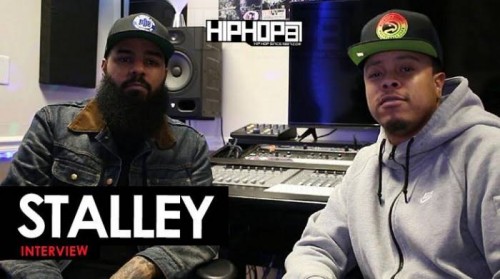 Cleveland native/ BCG's own Stalley is starting off the year 2016 in the right way, working! Known for his dope lyrics and Blue Collar hustle, Stalley is looking to expand his brand and his message this year and that kicks off this week with the release of his new project 'Saving Yusuf', his upcoming tour "From Me To You" and more.
Stalley has just released his new project 'Saving Yusuf', a project which Stalley calls something he needed to cleanse his mind and get back to the basics. Entering a new space as a man and as an artist, Stalley spoke on his journey so far and experiencing a lot of first. Having that knowledge, Stalley wanted to return to the things he loved, and get back to his roots with 'Saving Yusuf'. With much of his personal battle being a contradiction to his music career, Stalley wanted to set the record straight with this project.
Not only does Stalley have new music in the streets, Stalley is also hitting the road starting Tuesday, January 26th for his "From Me To You" tour. Kicking off in Kansas City, Stalley spoke on making sure the venue were smaller and intimate with affordable ticket prices so his "Blue Collar" fans can all come out and experience a great show.
Stalley the businessman is also set for a big year. Stalley has a partnership with New Era Caps and with Stance and he has his own sock line and hat collection dropping this year. Staying true to Cleveland, Stalley's New Era collaboration will include his hometown baseball team the Cleveland Indians.
In closing, we had to speak with Stalley on the Cleveland Cavs 2015-16 NBA Season, the Denver Broncos, his Super Bowl 50 predictions and everything else Stalley has coming up this year.
The interview was conducted by Terrell Thomas (Eldorado). The interview was shot by Danny Digital.
Follow on Twitter/Instagram:
@Stalley
@Eldorado2452
@HipHopSince1987
@DannyDigitall
© 2016, Eldorado2452. All rights reserved.