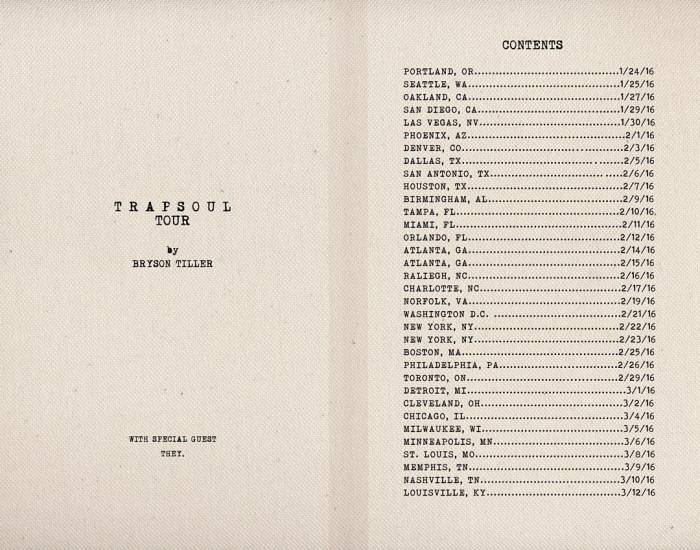 Bryson Tillers may be brand new to the game, but with his current success and captivating live shows, one would think he was a seasoned hip-hop performer. The 23 year old from Louisville, Kentucky seamlessly blends rap, R&B, and soul, resulting in a product which he coined "Trapsoul". Tiller received big name attention quickly, getting the early co-signs from Timbaland and Drake. He also had an OVO record deal offer on the table before ultimately choosing to sign with RCA.
Tiller first started making waves across the Internet after releasing his debut album "T R A P S O U L" in early October. His breakout single "Don't" was Originally posted to his Soundcloud in late 2014, and currently has 36 million plays. Its music video now has 66 million views on YouTube. Once the album was released, Tiller announced a supporting  world tour with dates across the United States and Europe. The T R A P S O U L Tour launched late January in Portland, and will run all the way through April.
After selling out two nights at New York City's Webster Hall earlier this week, a Radio City Music Hall date was added to the end of the tour. That too sold-out quickly, resulting in a second night being added due to overwhelming demand. When recently asked about playing such an iconic venue as Radio City on Hot 97's "Ebro In The Morning", Tiller revealed "Last year was my first time ever going to a show so I don't know how big of a deal it is to sell out Radio City…but my manager tells me all the time that it's like a big deal for a new artist". His manager is right. Any artist playing Radio City is a huge deal. Selling out Radio City with only one album under your belt is virtually unheard of, a feat Tiller should be extremely proud of.
Catching fire so rapidly has come at a cost for Bryson Tiller fans. All dates but one on his Trapsoul Tour are sold-out, and Bryson Tiller Tickets on the secondary market have not been cheap. Tickets for Tiller's recent Webster Hall shows saw an average price of $126. If you're willing to spend the money, definitely check him out. You will not be disappointed.
© 2016, @BWyche. All rights reserved.