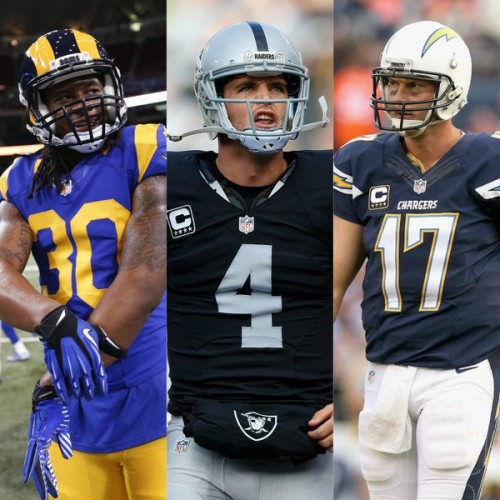 The look of the NFL will have a completely different look during the 2016 NFL season. 2016's NFL Black Monday left several teams looking for new leadership with their head coaches and three teams have plans on changing their locations. The St. Louis Rams, Oakland Raiders and San Diego Chargers have all filed to move their teams to Los Angeles and now the ball is in the NFL's hands.
According to ESPN, 
As expected on the first day NFL rules would allow, the league confirmed that the paperwork was officially filed and received.

According to the NFL's statement on the filings, each proposal contained the "appropriate documentation in support of its application, as required by the NFL Policy and Procedures for Proposed Franchise Relocations" and is intended to be effective for the 2016 NFL season.

The Chargers revealed their intentions first and went so far as to have owner Dean Spanos appear in a video on the team's website to explain the decision for filing.

"Over 25 percent of our business comes from Riverside County, Orange County and the Los Angeles County area. Another team or teams going in there would have a huge impact on that. I think that is what really was the catalyst that got this whole thing going because when the Rams decided to make their move there, this was a move to protect our business more than anything, so we find ourselves where we do right now."

The Rams and Raiders followed with their own confirmations:

"The St. Louis Rams informed the National Football League today that the Rams propose to relocate to the greater Los Angeles metropolitan area. The relocation would be effective for the 2016 NFL League Year."
"In accordance with the relocation policies, the Oakland Raiders submitted a relocation package to the NFL. The matter is now in the hands of the NFL's owners. An owners' meeting is scheduled to take place in Houston, Texas, on January 12 and 13, 2016."

Now that all three teams have officially declared their intents, it is up to the NFL's owners to decide which of the teams gets to follow through. It's a three-team, two-stadium race that could get some resolution as soon as the Jan. 12-13 owners meetings.

To that end, the 17 members of the league's finance, stadium and Los Angeles committees will gather in New York on Wednesday and Thursday. There, the committees will hear extended pitches for the Carson and Inglewood projects.
Checkout the NFL's statement below and stay tuned to HHS1987 for all your sports news.

© 2016, Eldorado2452. All rights reserved.