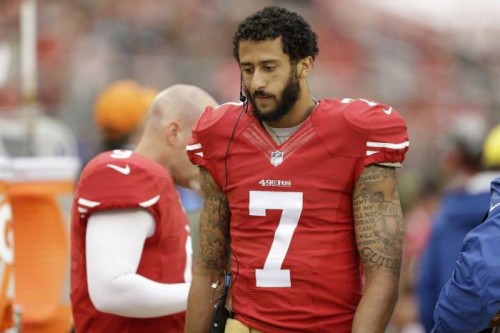 The Chip Kelly era is upon the San Francisco 49ers and before the 2016 NFL offseason begins after Super Bowl 50, it appears 49ers quarterback Colin Kaepernick is looking to clean out his locker.
Reports are surfacing that Kaepernick is looking to leave the 49ers and he would like to play for the New York Jets. Personally, I see Colin Kaepernick as a better fit of the Cleveland Browns and their new head coach Hue Jackson.
According to ProFootballTalk,
Kaepernick wants out of San Francisco. His preferred destination is the Jets.

It's unclear whether the Jets want Kaepernick. They'd need to tread lightly in order to avoid a tampering allegation.

The 49ers presumably would prefer to trade Kaepernick, which explains why they may be creating the impression they are willing to keep him. As of April 1, his $11.9 million base salary becomes fully guaranteed; if the 49ers don't want to pay that amount, they need to trade him or cut him by then.

The Jets have Geno Smith under contract, and 2015 starter Ryan Fitzpatrick is due to become a free agent in March.

It's unclear whether Kaepernick can become the guy that he was in San Francisco. On Monday night, former 49ers teammate Vernon Davis offered a curious assessment of the struggles Kaepernick has experienced since starting his career with a bang.

"Maybe Kap is going through something or maybe it just wasn't his time," Davis told reporters at the NFL's Opening Night festivities. "Everyone has situations, gaps and blocks, in their lives and they have to learn to overcome those things, obstacles. That's all they are. He just has to learn to overcome and find a place in his mind and his heart and just get back on track. I strongly believe that he will do that."

It's looking more likely that won't happen in San Francisco. While the 49ers hold his contractual rights, it's difficult to make things work with a starting quarterback who doesn't want to be there. The starting quarterback needs to be all in, in every way. If the starting quarterback doesn't want to be there, the team should find one who does.
 This could get interesting. Their will be several teams looking for a quarterback next season and I most say I wouldn't be surprised to see Kaep in a Texans, Browns, Eagles or even Rams jersey next season. Stay tuned to HHS1987 for all your sports news.
© 2016, Eldorado2452. All rights reserved.