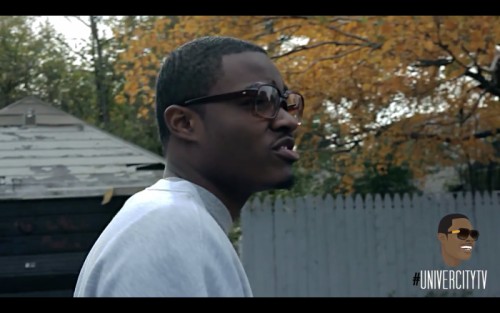 "I remember the days I used to go down to Eminem's porch…and imagine I was rocking in front of thousands of people."
After racking up accolades across his hometown of Detroit (Detroit Unsigned Hype & Detroit Underground Hip-Hop Award for Best Lyricist, respectively) and making moves across the country with some of hip-hop's most notable names and legends like Ski-Beats (executive producer of Eastside Story & of Reasonable Doubt Fame) J. Jackson has more than enough reason to feel himself right now. But with songs like Heaven Jones & 9 to 5 its easy to see that he would rather the people do it.
Jackson opens up The Journey showing love to Hip-Hop pioneers like Denaun Porter of D12 bringing a new element of hope with friendly visits from other rap legends like Bun B to one of Detroit's most dangerous zip codes. Jackson himself relays the story of a young Jack standing on Eminem's abandoned porch and imaging himself performing in arenas before taking us on a whirlwind experience through recording in New York with the legendary producer, Ski- Beats,making strides towards finishing his debut project. Clocking in at just under 20  minutes, the documentary also takes us through his experiences at SXSW & a homecoming of sorts when he is awarded Detroit's UHH Awards "Best Lyricist".
Jackson dedicates his growth as an artist and a man to his little brother Mikail "BoLo" Jackson who passed from cancer in September of 2014. Witness J. Jackson's journey from a hopeful artist to a bonafide lyricist with "The Journey: 48205, Eastside Story".
Connect With J. Jackson:
www.jacksonunivercity.tumblr.com
http://twitter.com/iam_j_jackson
http://www.youtube.com/user/Supportjackson
Instagram: @iam_j_jackson
SoundCloud: JacksonUnivercity
© 2016, Eldorado2452. All rights reserved.