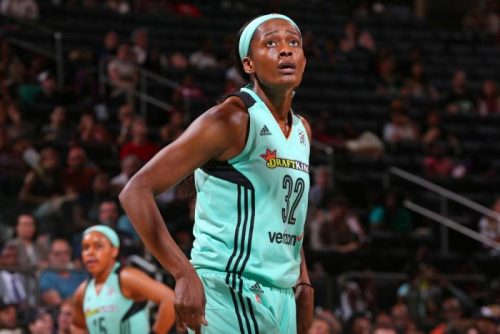 New York Liberty star/ future WNBA Hall of Famer Swin Cash has announced early this morning that she is planning to retire after the 2016 WNBA season.
Swin Cash made her announcement via the Players' Tribute this morning.
We live many different lives throughout the course of the one we're given.

I've had my own: a young girl in the Harrison Village projects of McKeesport, Pennsylvania. A TV personality. Recently, a wife.

The one I'm most known for — a professional basketball player — is coming to an end.

Basketball has given me the opportunities of many lifetimes.

It was truly my first love. It took my hand and pulled me beyond the pitfalls of my environment, and all over this country and the world — and then brought me back home again.

It showed me how I can touch people — people who may not know the game I love, but who know me because I play it. People whom I would never have met if I didn't dribble a ball.

This game I love saved my life after a cancer scare. It's provided for me and my family. It's given me championships in college and the pros. And it's asked me whether or not I had the tenacity and perseverance to compete with and against the greatest athletes in the world, and take home the prize of prizes: an Olympic gold medal. Twice.

This game brought me opportunities that I never thought possible: building a league, being a part of history. It has taken me back to my home to impact real change. It has helped me build my community, build families and build young women. 
Swin Cash has made a huge impact on the game of basketball both on and off the court. On the court, Swin Cash is a 2-Time Olympic Gold Medalist, 3-Time WNBA Champion and 2-Time NCAA Champion at UConn. I wonder if Swin Cash will consider coaching later down the road. With only 27 games left in her WNBA career, if you haven't yet, may sure you catch Swin Cash and the New York Liberty in action before she retires.
Stay tuned to HHS1987 for all your WNBA news. Follow @eldorado2452 on instagram and twitter for all your sports news.
© 2016, Eldorado2452. All rights reserved.