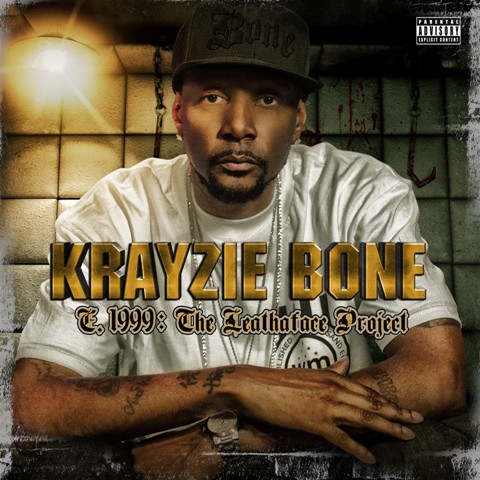 The grind doesn't stop; even for legends! Though he just released a solo-album In June (Eternal Legend), a collaborative effort with the Outlawz Young Noble, Thug Brothers 2 and is prepping Thug Brothers 3 (10-6-17); today Krayzie Bone has announced a new solo-project, E.1999: The LethaFace Project, which will be released on 10-13-17.
A vital part of the Grammy award winning group Bone Thugs-n-Harmony, Krayzie Bone has also carved out his own very unique niche as a solo-artist as well; including Thug Mentality 1999 which was certified platinum.
Krayzie Bone is back with Real Talk Enter­tainment for the release of his sixth studio solo album E.1999: The LeathaFace Project. A tale of trials and tribulations, The LethaFace Project, will surely enthrall the listener. With each song having its own unique sound, identity and story aligned with perfectly fitting dark and fiery beats, it takes the listener on an incredible journey of life's highs and lows. With the impressive lyricism from Krayzie Bone that made him a household name, along with features from his thug brother and Outlawz member Young Noble, The LeathaFace Project is a must have for Bone Thugs fans and new fans alike.
Today, Krayzie Bone releases the aptly-titled first single, "Legend," from his forthcoming new album.
Listen to Krayzie Bone's "Legend" below.
© 2017, Niyah Nel. All rights reserved.