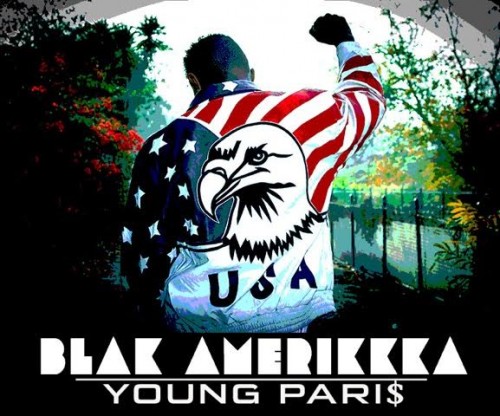 As a 18-year-old black man in America during a time where the color of his skin makes him and so many others a target, inevitably, Houston native Young Pari$ steps up to speak out. On Martin Luther King, Jr. Day, Pari$ will be unveiling his politically charged and highly provocative new visual, "Blak Amerikkka".
BLAK AMERIKKKA is not just a song or a music video. It is the painful tale that bears witness to the fact that our country has lost its way, forgetting to care for both each other and ourselves. The compelling music video — directed by Shot by Dread — captivates us with every shot. Pari$'s powerful presence and words have the listener hanging on to the story, while the visuals illustrate not only an edginess and aesthetic boldness, but a shocking reality that none can shy from any longer.
HHS1987 caught up with Young Pari$ on his background as an artist to familiarize those who are not yet hip to the young rapper. Tune in below for the profile and stay tuned for his Jan. 15th release, Blak Amerikkka. 
How did your educational background and the direct influence from the schools you attended affect the way you approach your music?

They gave me a great understanding of how to read music and the fundamentals of music. I think without it I would have never become so great at writing lyrics and music. Parker Elementary was a great place because it taught me the value of music and how it should be taught to children at a young age.

Can you recall your experience at Parker Elem? What type of musical legacy does the school hold especially having students like Beyonce Knowles in the past?

Parker was a huge part of my early life. Without the strong leadership of my band teachers I would not become the great musician I am today. The legacy that Parker leaves its students with is huge. They make sure that music is a necessity, not a privilege.

 

Who are some of the artists that influenced your artistry?

Tupac, Nas, Biggie Smalls, Logic, and J. Cole. They all have a conscious flow and lyrics and they inspired the way I rap and the attitude I bring to the mic. Without hearing Tupac I would've never fallen in love with rap.

Since you've decided to take your music serious, what are some of the things you've accomplished with your career?

One of my most proudest achievements was performing at Carnegie Hall at the tender age of 12 with the Conrad Johnson Jazz Youth Orchestra. I feel that me achieving this was a huge milestone in my music career. It showed me that hard work and persistence can give you so much satisfaction and success. I also performed in the 2016 London New Year's Day Parade with the highly respected Beverly Hills High Marching Band. These two huge achievements laid the foundation for my career.

How did the relationship between you & Young Joc spawn?

My manager was trying to find someone to add more star power for the tape. Through her many connections she set up a dinner with Joc. We chopped it up and discussed my music and he liked it. As soon as I finished "Sehpia" my manager sent the track to Joc and he liked it and decided to hop on the track. After that he became more like a mentor to me.

Who is the Grammy-nominated producer you worked with and how did you link up with them?

I worked with two actually- Composer and Dj Marley Waters. They both are connected to my team who I work with and they both liked my style and voice. Both were very different but I enjoyed working with both of them. They both taught me a lot.

What more can we expect from Young Pari$ in the future?

More projects and singles for sure. I plan to drop a new mixtape this year where I really want to get more personal about my life and experiences. The first tape was an experiment for me to try different sounds and be open to new things. The new tape however will be more of a journey through all the things I've gone through and my life. Expect new music soon.

Leave something with the people..

Expect great thing this year. I'm planning to go hard so I can make the XXL 2017 cover this year and I'm willing to put in the work so you all can see me there.



© 2017, Niyah Nel. All rights reserved.