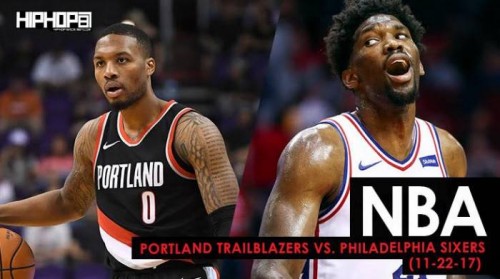 What a time to be a Sixers fan.
The Philadelphia 76ers are rolling early into the 2017-18 NBA season and fans in Philly are loving every moment of it. Last night, the 76ers picked up a big (101-81) victory against the Portland Trailblazers after starting the game off on a (16-0) run.

For the Sixers, Joel Embiid led the way with 28 points, 12 rebounds and 2 blocks in just 30 minutes of action. Embiid was in foul trouble early in the game but he managed to still perform at a high level on both ends of the floor. Following the game, Embiid spoke on feeling better health wise and stating he is about 81% and on how he feels he is currently the best defensive player in the NBA.
"It's early days, but we see daylight and we see fruits of our labor." pic.twitter.com/4CgffU5kVi

— Philadelphia 76ers (@sixers) November 23, 2017
Rookie Ben Simmons flirted with a triple-double last night finishing the night with 16 points, 8 rebounds and 9 assist. Simmons spoke after the game on teams snagging him in the paint and he spoke on what he has learned about his team during there recent home stand. Dario Saric and J.J. Redick both finished the night with 11 points.
For the Trailblazers, Damian Lillard led the way scoring 30 points shooting (11-27) from the field. Jusuf Nurkic finished with 14 points and 11 rebounds. C.J. Mccollum struggled against the Sixers on Wednesday night shooting (1-14) scoring just 5 points.
The Sixers are back in action on Saturday November 25th against the Orlando Magic. Stay tuned to HHS1987. Follow @eldorado2452 on Twitter and Instagram for all your Sixers, NBA and sports news.
© 2017, Eldorado2452. All rights reserved.