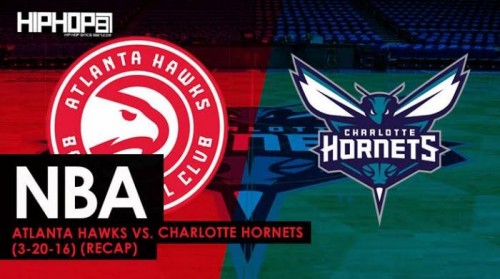 The Atlanta Hawks stand at (37-33) and they are currently on a four game losing streak after falling to the (31-39) Charlotte Hornets on Monday night.
The Hawks entered the game short handed as Kent Bazemore and Paul Millsap both missed the game due to injury and it showed as the game played out. The Hawks and Hornets were all tied at 19 after the first quarter but big scoring second and third quarters for the Hornets helped them pull away in the second half. The Hornets lead by as much as 23 points in the second half and they controlled the pace of the game all night.
For the Atlanta Hawks, point guard Dennis Schroder was the leading scoring with 20 points. Schroder shot (8-17) from the field and also dished out 6 assist. The Hawks front court of Dwight Howard and Ersan Illyasova both contributed 13 points on the night. Howard was (6-9) from the field and he grabbed 10 rebounds. Illyasova was (5-11) shooting with 6 rebounds. Hawks rookie Taurean Prince has been seeing a lot of playing time recently and he has been making the most out of those opportunities. Prince finished with 11 points.
For Charlotte, both Hornets all star Kemba Walker and forward Nicolas Batum both finished the game with 16 points. Batum shot (5-8) from the field while Kemba Walker was (6-16) shooting with 4 assist. Hornets big man Frank Kaminsky finished the game with 14 points on (5-11) shooting from the field with 5 assist. Hornets forward Marvin Williams finished the night with 13 points against his former team.
The Atlanta Hawks continue their 3 game road trip with their second game on Wednesday night. The Hawks will face the Washington Wizards in D.C. on Wednesday night at 8pm on ESPN. If your in the Atlanta area you can watch the game on Fox Sports South or listen to the game on the radio at 92.9 the game.Stay tuned to HHS1987 for more NBA news. Follow @eldorado2452 on Twitter and Instagram for all your Atlanta Hawks, NBA and sports news.
Follow On Twitter/Instagram:
@ATLHawks
@Hornets
@Eldorado2452
@HipHopSince1987
© 2017, Eldorado2452. All rights reserved.