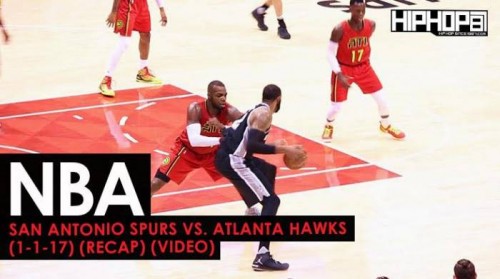 The New Year tipped off in grand fashion last night in Philips Arena. On Sunday January 1st, the Atlanta Hawks moved on to a record of (18-16) after defeated the (27-7) San Antonio Spurs.
The Hawks snapped a 11 game losing streak to the Spurs after their (114-112) victory in overtime. Paul Millsap and Tim Hardaway Jr. both played huge and were key in the Hawks win. Tim Hardaway Jr. was on a mission yesterday finishing the game tying his career high with 29 points. In the fourth quarter, the Spurs were leading the game (100-97) with under 10 seconds left. Hardaway Jr. made the play of the game coming off of a screen and hitting the three point shot with 3.3 seconds left to send the game into overtime. Paul Millsap played his best game of the season against the Spurs. Millsap finished the game with 32 points including 27 points in the second half and overtime with 13 rebounds. Atlanta Hawks point guard Dennis Schroder finished the game with 16 points and 10 assist.
The Spurs lead for most of the game but they never stretched their lead pass ten points. LaMarcus Aldridge and Tony Parker played big for the spurs. Spurs all-star Kawhi Leonard had a off night and he had a chance to win the game with 3.3 seconds left in the fourth quarter but a great look spun around the rim and rimmed out sending the game into overtime. Aldridge finished the game with 27 points on (12-17) shooting with 13 rebounds in 43 minutes of play. Tony Parker fisnedh with 22 points and 6 assist. Pau Gasol added 18 points and Kawhi Leonard was just (3-12) from the field with 13 points.
The Atlanta Hawks are headed on a four game road trip which tips off on Wednesday January 4th as they face the Orlando Magic. The Hawks return home to Philips Arena on Friday January 13th as former Hawks star Al Horford returns to Atlanta with his new team, the Boston Celtics. The San Antonio Spurs are back in action on Tuesday night at home as they host the Toronto Raptors.
The San Antonio Spurs vs. Atlanta Hawks matchup was covered by Terrell Thomas (Eldorado). The San Antonio Spurs vs. Atlanta Hawks matchup was shot and edited by Danny Digital.
Follow Us on Twitter/ Instagram:
@ATLHawks
@Spurs
@Eldorado2452
@HipHopSince1987
@DannyDigitall
© 2017, Eldorado2452. All rights reserved.