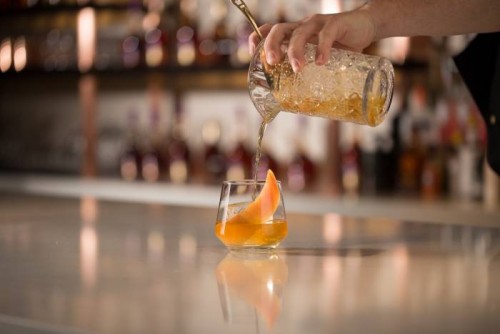 A$AP Rocky is one of the biggest music icons and trendsetters in the game. Courvoisier® is one of the biggest and most liked players in the liquor industry. A$AP Rocky recently joined the Courvoisier® family and is featured in the brand's "Honor Your Code" ad campaign. "Honor Your Code" celebrates how you live your life and the influences, lessons, convictions and ideas that help guide everything you do. On October 3, A$AP Rocky will celebrate his 29th birthday! To toast to the occasion, Courvoisier® Cognac brand ambassador, Zahra Bates, created an exclusive, one-of-a-kind cognac cocktail, inspired by A$AP Rocky – Long Live A$AP.
Checkout the celebratory recipe below! Each ingredient was inspired by A$AP Rocky's personal cocktail preferences and are perfect for you to recreate at home. Below are the ingredients needed to make the signature "Long Live A$AP" cocktail.
Long Live A$AP
– 2 parts Courvoisier® VSOP Cognac
– ¼ part Earl Grey Syrup*
– 2 dashes Lemon Bitters
Preparation: Build all ingredients in an old-fashioned glass. Add ice. Stir. Garnish with a grapefruit swath.
*To make the Earl Grey simple syrup, make Earl Grey tea, then add super fine sugar for a 1:1 ratio.
Make sure you wish A$AP Rocky a happy birthday on October 3rd, and celebrate in your home by creating your own "long Live A$AP" cocktail with Courvoisier®!
© 2017, RickDange. All rights reserved.