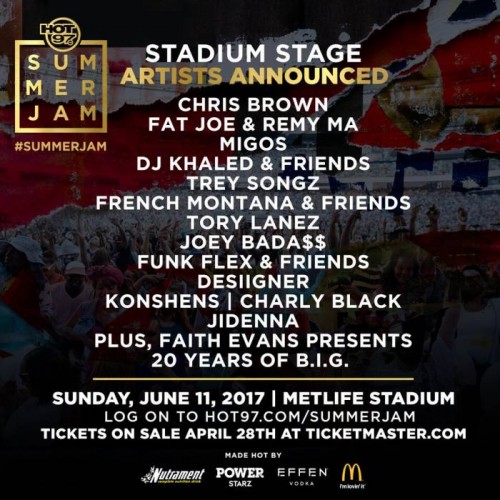 TGIF! We're just two days away from Summer Jam!
It's hard to imagine how Hot 97 continues to outdo itself every year. But they seem to do it with ease. After every June, you ask yourself, "How are they going to top this next year?" By "this," I mean producing an event with dynamic artist line-ups on not just ONE stage, but TWO. And still maintaining a surprise factor that leaves concert goers stunned and amazed. For TT Torrez, the veteran music director and radio personality at Hot, her work seems effortless. In charge of booking talent for the Festival Stage, and managing/producing the Stadium Stage, TT has mastered this. And we caught up with her – via email – to discuss all things Summer Jam. Read our interview below!
HHS1987: This year's Festival Stage line-up boasts a lot of New York artists! With so much talent coming out of the Big Apple in recent years, how did you go about choosing this line-up? How necessary was this for New York Hip Hop?

TT Torrez: I can mainly talk about the acts on the Festival Stage, since those are the ones I focus on booking. A lot has to do with who's hot and making waves on the radio and social media. I mean, you couldn't go anywhere last year and not have people singing along to "OOOUUU"! New York is always gonna make noise in Hip Hop. And when a new artist from here gets poppin, it's like a ripple effect, with other artists stepping up their game.

HHS1987: Briefly, could you discuss your thoughts on the current state of NY Hip Hop?

TT Torrez: NY is on fire! Each area of Hip Hop has their little details that make them different and make them popular, but NY is always gonna be the birthplace of Hip Hop. And the acts that have been coming out of here, they've got the city lit. 

HHS1987: Lil Yachty is touching the festival stage, and some have voiced their opinions about having him included in this line-up of dominantly NY artists. How necessary is someone like a Yachty to the Summer Jam, and Hot 97 mission?

TT Torrez: Hip Hop is diverse, and the music is for all kinds of demographics, ages, genders. It's important for us as a radio station meant to entertain people to embrace that, and give every part of our audience a little bit of what they like.

HHS1987: Who are you most excited to see perform on the Festival Stage?

TT Torrez: Nope, not falling for it (LOL) I put together that stage, it's my blood, sweat and tears. No way could I pick a favorite!

HHS1987: What can we expect from the Faith Events Presents 20 Years of B.I.G. set?

TT Torrez: Ebro handles the Stadium Stage, so I haven't been that involved with this. But come-on…BIG. 20 Years. New York. You know this is gonna be HUGE!

HHS1987: As always, a lot of "& Friends" in the line-up, how would you compare this year's list of (surprise) guest artists, to past years?

TT Torrez: Ha nope, my lips are sealed! You'll just have to be at MetLife to see the surprises!

HHS1987: What's the most important thing for you to remember when producing an event as big as Summer Jam?

TT Torrez: From booking the artists, to managing stage sets, etc. "This one is tough. If I only had to pick one, I think it's most important to remember who you're doing this for: the fans. The fans of the music; the fans of HOT 97; the fans of the culture. They should always be the first thing you think about when deciding all the other factors, like artists and sets.
Didn't get your tickets for Summer Jam in time? No worries! HHS1987 will be at MetLife Stadium this Sunday live streaming & posting via social media.
Follow: @HipHopSince1987 on Twitter & @MariaMyraine on Instagram!
© 2017, MariaMyraine. All rights reserved.