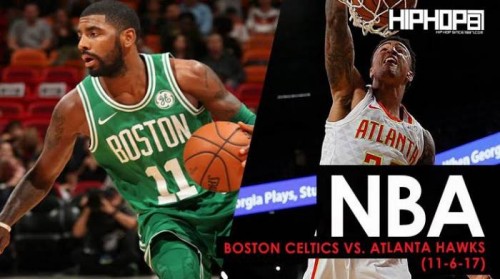 The last two games for the Atlanta Hawks have been thrilling nail biters to say the least. As the new look Atlanta Hawks roster continues to gel and learn their roles in Coach Bud's system, We have seen the Hawks give their all against LeBron James and the Cavs on Sunday afternoon and follow that performance with a great game vs. Kyrie Irving and the Celtics on Monday night.
On Monday November 6th, after defend the Cavs Sunday afternoon, the Hawks lost a tough battle to the Boston Celtics (110-107). The Celtics are the hottest team in the NBA picking up their ninth straight victory Monday night. Celtics floor general Kyrie put up his best performance to date in a Celtics uniform scoring 35 points and dishing out 7 assist. Following the game however, Kyrie Irving was excited about the teams efforts as of lately on the defensive end of the ball and the growth he sees in rookie Jayson Tatum.
Former Atlanta Hawks forward Al Horford flirted with a triple-double against his old team. Horford finished the night with 15 points, 10 rebounds and 9 assist. Rookie Jayson Tatum was clutch down the stretch for Boston and his finished the night with 21 points on (7-13) shooting and 8 rebounds.
For the Atlanta Hawks, point guard Dennis Schroder continues to be a force on offense scoring in the paint. Schroder finished the night with 23 points and 6 assist. Hawks big man DeWayne Dedmon has best game as a member of the Hawks so far in this early 2017-18 NBA season. Dedmon finished with 19 points on (8-14) shooting which included a few rim rattling slam dunks.
5 plays you'll be glad you watched again from last night's game against Boston 🏀 pic.twitter.com/BV2otxFIWX

— Atlanta Hawks (@ATLHawks) November 7, 2017
I can't say enough about the play of Hawks guard Malcolm Delaney in the second half. Delaney was on fire from beyond the three point line going (3-3) and finishing with 13 points.
The Hawks are back in action on Friday as they head to Detroit to face the Detroit Pistons. The Hawks will travel to face the Wizard in D.C. before heading home to Philips Arena on Nov. 15th to face the Sacramento Kings. Stay tuned to HHS1987 for more NBA news. Follow @eldorado2452 on Twitter and Instagram for all your Atlanta Hawks, NBA and sports news.
© 2017, Eldorado2452. All rights reserved.