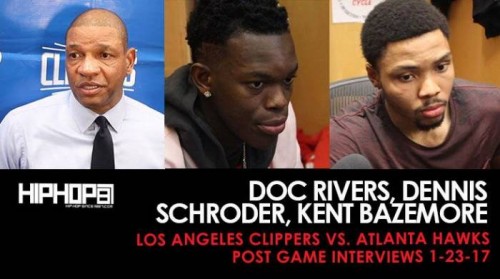 On Monday January 23rd, the Atlanta Hawks fell to a record of (26-19) after losing to the (30-16) Los Angeles Clippers (115-105).
Coming into the game, the Hawks had won ten of their previous 13 games. For the Atlanta Hawks who trailed the Clippers by 24 points at one point during the game, guard/forward Kent Bazemore was the high scorer on the night dropping 25 point on (9-21) shooting from the field. Point Guard Dennis Schroder finished the game with 21 points on (7-18) shooting with 7 assist and 6 rebounds. Following the game on Monday night, we caught up with Kent Bazemore and Dennis Schroder. Kent Bazemore spoke on his performance and what the Hawks will do to bounce back. Dennis Schroder spoke on facing the Clippers and the things they did right to get the victory.
The Los Angeles Clippers came into the game without two of their biggest stars as Blake Griffin and Chris Paul both missed the game with injuries. The Clippers high scorer on the night was Austin Rivers who finished the game with 27 points and 6 assist in 41 minutes of action. Former Atlanta Hawk six man of the year Jamal Crawford was the player of the game for the Clippers scoring 19 points on (9-20) from the field leading the Clippers to the victory. Following the game, L.A. Clippers head coach Doc Rivers spoke on Jamal Crawford's play, facing the Hawks, Austin Rivers and more.
The Atlanta Hawks are on the road on Wednesday January 25th in Chicago against Jimmy Butler and the Chicago Bulls. The Hawks return to Philips Arena on Friday January 27th as they host John Wall and the Washington Wizards. Stay tuned to HHS1987 for more NBA news. Follow @eldorado2452 on Twitter and Instagram for all your Atlanta Hawks, NBA and sports news.
Follow on Twitter/Instagram:
@ATLHawks
@DennisMike93/ @ds17_fg
@24bazemore/ @24baze
@JCrossover
@LAClippers
@Eldorado2452
@HipHopSince1987
@DannyDigitall
© 2017, Eldorado2452. All rights reserved.