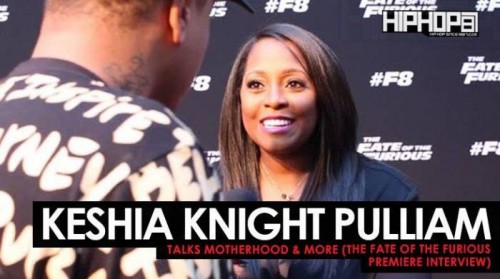 On Tuesday April 4th, celebrities and local influencers attended a special VIP screening of the upcoming film "The Fate Of The Furious" at SCAD Show in Atlanta.
Before the screen took place, a few of the events guest walked "The Fate Of The Furious" Red Carpet. While walking the carpet, Terrell Thomas (Eldorado) caught up with Keshia Knight Pulliam. Speaking on being a fan of the Fast & The Furious Series, Keshia Knight Pulliam spoke on looking forward to the release of the film. Having recently launched her new platform "Keshia's Kitchen", Keshia Knight Pulliam also spoke on her new food/spice products as well as Motherhood.
The interview was conducted by Terrell Thomas. The interview was shot by Danny Digital.
Follow On Twitter/Instagram
@peachespulliam/ @keshiaknightpulliam
@Eldorado2452
@FastFurious/ @fastandfuriousmovie
@HipHopSince1987
© 2017, Eldorado2452. All rights reserved.