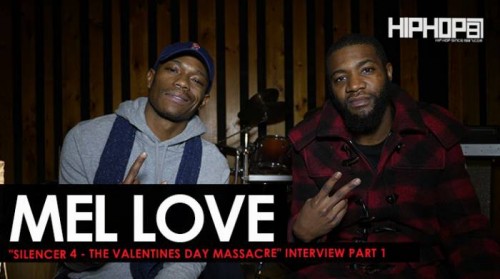 The Philadelphia music scene is looking really good right now! Almost every part of the city has atleast one artist that is making noise on a large level and today HipHopSince1987 is dropping a new interview with one of the names in Philly that is heating up the streets. Mel Love has been known in Philly from back in the early days of Meek Mill's career when he was in the group Blood Hounds. Today he is a Dream Chaser representer and a solo artist that is priding himself on making quality music with quality bars.
In this interview HHS1987's own E-Money sits down with Mel Love in E.R. Studios to break down how he met Meek Mill and what it feels like to have watched his progress throughout the years. He also talks about great advice that he's received from Meek when it comes to making music. Mel Love is releasing his latest project "Silencer 4 – The Valentines Day Massacre" tomorrow on Valentine's Day. In this exclusive interview, Mel Love breaks down the process he went through to create the project. He also talks about the features on the project as well as his single "Run It" featuring another rising Philly star Lihtz Kamraz, which is heating up radio stations around the country. Mel Love feels like the main difference between this project and his past projects is his new manager, Sing Bing. With the help of Sing Bing, Mel Love feels like he attacked this project with way more structure and he also feels like his business side is also way tighter.
Checkout the Interview NOW and make sure you download Mel Love's new mixtape "Silencer 4 – Valentines Day Massacre" tomorrow everywhere!!
This interview was shot & edited by Rick Dange.
Follow Us on Instagram & Twitter:
@MelLove215/@Mel_Love215
@HipHopSince1987
@BeatEmUpMoney/@EmoneyBeatz
@RickDange
© 2017, RickDange. All rights reserved.