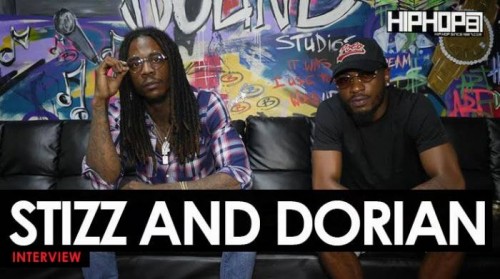 If your familiar with VH-1's "Love and Hip-Hop" then you definitely know who Stevie J is. One thing that we all know from watching the show is that Stevie J is a dad and that he's all about his family. One thing that you probably didn't know from watching "Love and HipHop" is that Stevie J's has a musical family. Recently HipHopSince1987's own Rick Dange sat down with Stevie J's son Dorian and his nephew Stizz to discuss each of their careers and what they have going on.
Dorian and Stizz discussed with HHS1987 the pressure they have on them to live up to Stevie J's legacy. They also spoke about some of the great advice he's given them, as well as not needing to sign to a major record label because they are already signed to Stevie J's "Dangerzone" label and it already operates as a major. Dorian and Stizz each went into detail about their upcoming solo projects. Dorian's project is called "Point to Prove" and the lead single off the project is called "Backseat". Dorian breaks down why he named the project "Point to Prove" and how he picked his lead single. Stizz's project is called "No Regrets" and the lead single off the project is called "Oh My God". Stizz takes us through the meaning of his mixtape's title as well as his lead single.
Dorian and Stizz also have a joint project coming out soon and the 2 broke down why they decided to do a joint project and let us know what to expect from the project.
Before we wrapped up the interview, Stizz told us about his new battle series that he has created and about upcoming events he has lined up. He also spoke about their studio which is up and running, in fact we actually filmed the interview in their studio.
Checkout this exclusive interview and get to know Stizz and Dorian, but also be on the lookout for new music and videos from each of them!
This interview was conducted, shot, and edited by Rick Dange.
© 2017, RickDange. All rights reserved.