NY collective Tastemakers return with their debut mixtape titled "Free Samples". This 11 song project comes just after a year of the group being formed and provides listeners with a variety of vibes and flavors that are sure to get your head bopping and fingers snapping.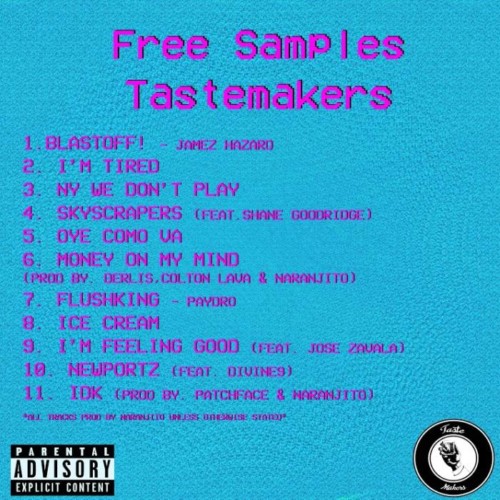 It is an eclectic tape from top to bottom and showcases the range & diversity of songs, which can be heard in feel-good tracks like "Ice Cream" & "I'm Feeling Good", to somber tracks like "I'm Tired" & "IDK" that bare the raw emotions of people that most can relate to. The EP boasts features from Shane Goodridge on "Skyscrapers", plus members from the L.I. collective Divine9 (Jo$e Zavala, Numeral, Emanyouill, Ant Pablo, A.W.O.L. Da Mindwriter,& Jonrah) on the star-studded track "Newportz". Production was handled mostly by Naranjito with some help from Patchface, Derlis, & Colton Lava.
Checkout the Tastemakers new project "Free Samples" below. Follow @eldorado2452 on Twitter and Instagram for all your music and entertainment news.
© 2018, Eldorado2452. All rights reserved.