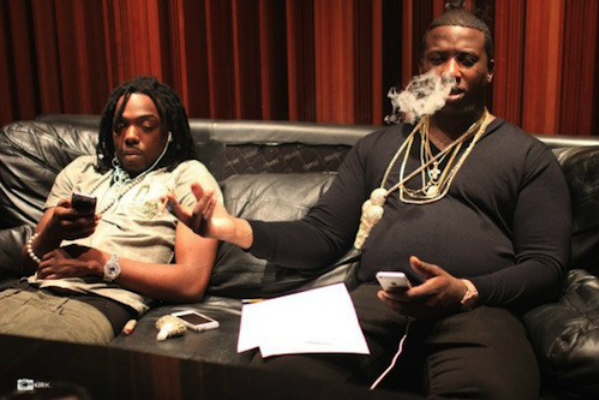 So if Gucci Mane's current Twitter rant isn't enough for him to be black balled among the industry elites, The FADER magazines online platform has come forward to unveil that Gucci is no longer on Atlantic Records, it's not yet been confirmed if he was dropped or left on his own.
"If today's Twitter rant hasn't made it clear—Gucci Mane is no longer in business with Atlantic Records. "He's not with Atlantic anymore," an anonymous former rep tells FADER exclusively over email. Atlantic has kept Gucci on a long leash since inheriting his 1017 Brick Squad imprint from Warner last year. In June, Gucci told FADER: "I'm basically an independent label with 1017 Brick Squad. I handle all my day to day business. The entire Trap House 3 album—I paid for every beat on that CD. I paid for every mix session, every mastering session. All the promotion, all the videos, any kind of promotional visual or any servicing of records it was funded by me and my company independently." It's not clear when, or on what terms the partnership between Gucci and Atlantic was terminated. "Not sure how the deal ended, it may have been a time thing," says the rep. Perhaps most significantly, it also appears Gucci is no longer represented by his longtime manager, Kevin "Coach K" Lee. The two have worked together, on-and-off, since 2010; Coach K remains the manager of Atlanta trio Migos. "It looks like it just wasn't working out with Coach—which based on the tweets and his behavior, one could see why," the former rep explained."
So far the rapper has called out Nicki Minaj, Tyga, T.I., Rocko, Waka Flocka Flame, Fantasia, Young Dro, Kelly Rowland, Rick Ross, Yo Gotti, Jeezy, Eminem, OJ Da Juiceman, Frenchie, Drake and Whoo Da Kid. Click on the names of the artist mentioned above to see what he said about each one. We will continue to keep you posted on this story as it develops!
© 2013, @quinelleholder. All rights reserved.