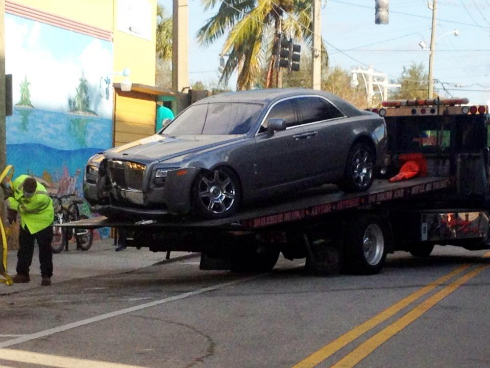 Remember how Biggie died? He was shot while riding in a vehicle. Well last night rapper Rick Ross was reportedly inside a Rolls Royce that was the target of multiple gunshots Monday morning, according to witnesses.
Around 5 a.m. Monday, Fort Lauderdale police received multiple calls from residents who heard shots fired near Las Olas Blvd. and 15th Ave.
Police say two people were in a Rolls Royce heading east on Las Olas when a vehicle approached them and someone inside fired off multiple shots.
The driver of the Rolls Royce attempted to get away and slammed the car into a residential apartment building on 15th Avenue.
No one was injured.
Police are still looking for the people responsible for the shooting, and have not yet released any information about them or the car they were driving.
They are also not releasing the names of the victims, who asked that their names be withheld for safety reasons.
An employee at the Floridian diner, however, told Local 10 that rapper Rick Ross and a woman were in the Rolls Royce. That employee said Ross was shaken up after the drive by shooting
The owner of another nearby business also said it was Ross. He said the rapper recently bought a house in the area.
via NBC
© 2013, @BWyche. All rights reserved.