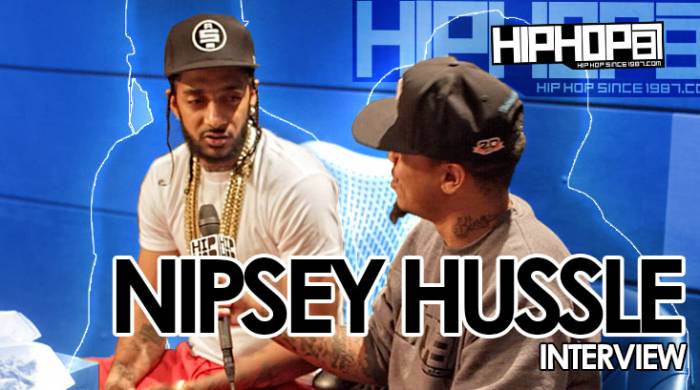 West coast indie artist Nipsey Hussle's work ethic and passion for the art of Hip-Hop goes without question. With Nipsey currently working on his new album "Victory Lap", HHS1987's Eldorado caught up with Nipsey during a late night studio session at Means Street Studio to discuss the formula to creating "Victory Lap", why he is working in Atlanta, Marathon Clothing and much more.
As Nipsey took a brief intermission for a session with DJ Toomp to talk with us and eat a quick meal, Nipsey discussed what will be different from his "Victory Lap" album and his previous Marathon and Crenshaw projects. "I just want every thing to be better. Better beats, better hooks, better music" Nipsey stated.
Nipsey also took a moment to discuss not only being a rapper but being a businessman. Having a stake in the franchise "Fatburger" and having his own clothing brand, Nipsey spoke on the future of Marathon clothing and why getting money outside of the music business is important. Nipsey gave us some insight on how receiving income from lines outside of music allow him to make the music he wants and not the music he has to in order to make a living.
Before wrapping up the interview and continuing with Nipsey's "Victory Lap" session we spoke with Nipsey on why he chose the title "Victory Lap" and why he chose to come work on his project here in Atlanta. After breaking down his road to success and speaking on reaching a new point in his career playing a part in the title "Victory Lap", Nipsey explained his love for the south. Nipsey spoke on understanding his west coast market and how coming to the south will only allow him to sharpen his skills.
Nipsey compared his journey as a rapper to the career of Michael Jordan. Nipsey explained how Jordan never settled. After winning a MVP, Jordan would work on winning Defensive Player of the year. After working on being a better rebounder, Jordan would work on passing the ball better. Nipsey explained that coming to south allows him to learn a new market and work on new flows and new sounds which will make him a better artist in the long run. With Nipsey set to be featured on new material from T.I., Young Thug, Trae Tha Truth and many more, Nipsey assured us that 2014 will end with a bang and the 2015 is sure to be a great year for him.
The interview was conducted by HHS1987's Eldorado. The interview was shot by HHS1987's Brian Da Director.
Follow On Twitter/Instagram:
@NipseyHussle
@eldorado2452
@HipHopSince1987
@BrianDaDirector
© 2014, Eldorado2452. All rights reserved.