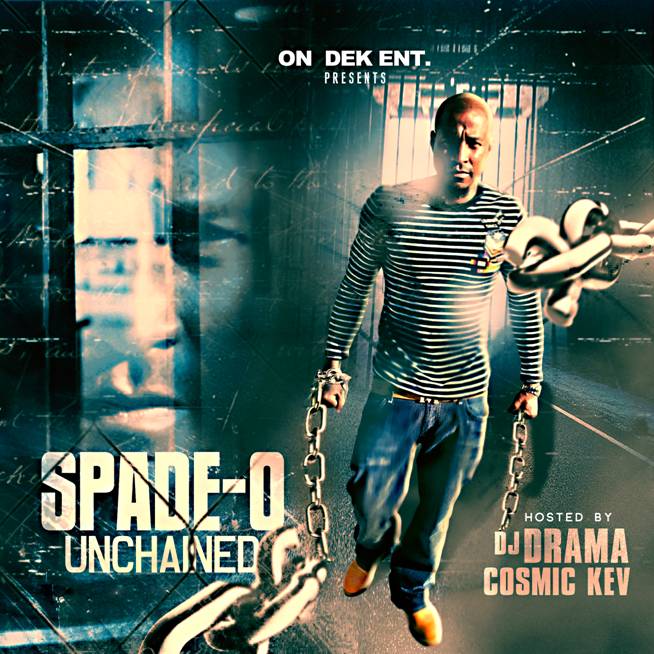 A second wind can make the difference in a challenging race, and Philadelphia emcee Spade-O is preparing for a winning lap with his new street album Spade-O Unchained. Slated for release on January 30, 2014, the mixtape version of the project hosted by DJ Drama and Cosmic Kev will be available for free download, sure to attract longtime fans and new music lovers alike.
Spade-O Unchained features appearances from Meek Mill on the original song "All For The Love" and popular "Pound Cake Freestyle", as well as Freeway, Aylee P., Quilly and Chief Keef. Production includes All Star (2 Chainz, Meek Mill, Rick Ross), who also lends a verse on the track "Original Players", along with Roc Nation's Jahlil Beats (T.I., Chris Brown, Lil Wayne), Neo Da Matrix (Jadakiss, Fabolous, Juelz Santana), and more. A no-dj iTunes version of the album will be released in February.
It's been a long road for Spade-O. With his legendary group Major Figgas, he enjoyed success when the 2000 album Figgas 4 Life was released via RuffNation/Warner Bros. The album spawned the chart-topping single "Yeah That's Us," which garnered the group "Song of the Year" at the 2001 ASCAP Awards. The crew's flair for flashiness coupled with a solid thug doctrine was all it took for the Philly rap scene and beyond to be drawn to them.
But they say art imitates life, and in Spade-O's case it definitely did. He was incarcerated in the midst of his career, but found some life lessons there. "The guys I was incarcerated with who had life sentences inspired my music and professionalism," Spade-O recalls. "It made me appreciate my career, and the opportunities to come.
With rhymes to deliver and a story to tell, Spade-O presents Spade-O Unchained arguably his piece de resistance, defying what he was known for before and bringing stellar bars into the present. "Everything I am is Philadelphia," Spade-O says. "This is the city that gave me everything. Good or bad."
"Man, the process of recording "All For Love" with Meek Mill was timeless, we created a music episode together that listeners are going to both love and respect" says Spade-O of collaborating with Meek Mill. With other gems include the solid "Closer," featuring Aylee P, which Spade-O wrote while he was still in prison. Every other track was created following his prison term, when Spade's outlook on life and the game had totally changed.
"Who Realer" is a nod to the past, but shuns outdated formulas. Rather it brings us right back to the Golden Era, while still providing present-day realness. "I love this song in particular," Spade says, "because it takes me back to my roots and gives off that old, vintage, '90s Hip-Hop feel." His songs run the gamut of what to expect from a breakout solo mixtape, from tales of street life to quintessential club mainstays.
Spade-O Unchained is exactly that. It's the Philly rapper's battle cry that he's let loose and ready to take over.
It's not every day that an artist gets his second wind to reemerge with a new message to deliver to the masses. With Spade-O, his is pretty clear. "What you see is what you get," he says. "As important as success is it is more important that I look in the mirror and respect what I see. Hopefully the world can respect that too."
DOWNLOAD: Spade-O – Unchained (MIxtape) (Hosted by DJ Drama & Cosmic Kev)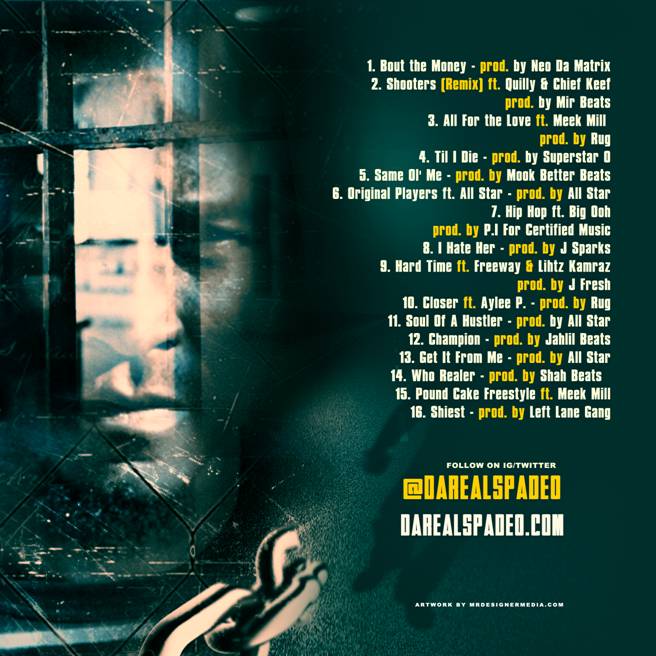 Follow Spade-O:
http://Twitter.com/DaRealSpadeO
http://Instagram.com/DaRealSpadeO
http://Facebook.com/DaRealSpadeO
© 2014, @BWyche. All rights reserved.