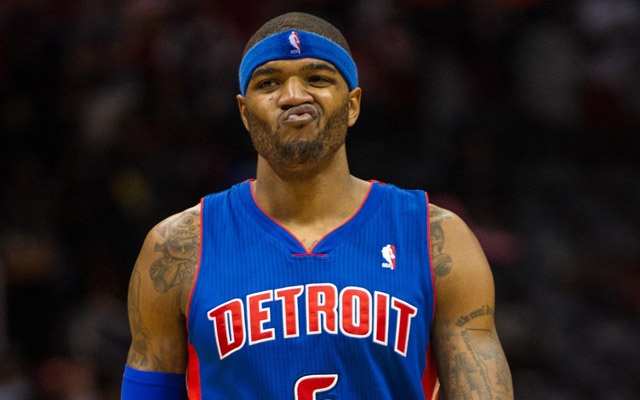 Professional sports can be a cruel world. One day your a sought after free-agent, the next minute your on the streets looking for a new place to call home.
That's the dilemma that former Detroit Pistons forward Josh Smith is going through now. Smith signed with Detroit after becoming a free-agent. Smith, on paper was supposed to be the missing piece to what was to become the best front court in the NBA.
In reality, Smith, Greg Monroe and Andre Drummond turned into a massive disaster!
Monroe and Smith essentially play the same position creating a crowded space in the paint and taking away shots from burgeoning star center Andre Drummond.
With the Pistons looking more and more like a mess than a contender, head coach and GM Stan Van Gundy made a difficult decision.
According to the Detroit Free Press, the Pistons have waived Josh Smith effective immediately.
Van Gundy said in an official statement:
"Our team has not performed the way we had expected throughout the first third of the season and adjustments need to be made in terms of our focus and direction," coach and team president Stan Van Gundy said in a released statement. "We are shifting priorities to aggressively develop our younger players while also expanding the roles of other players in the current rotation to improve performance and build for our future. As we expand certain roles, others will be reduced. In fairness to Josh, being a highly versatile 10-year veteran in this league, we feel it's best to give him his freedom to move forward. We have full respect for Josh as a player and a person."
Smith signed a four-year, $54-million contract with the Pistons in the summer of 2013. He had spent his entire career with the Atlanta Hawks up until that point.
The Pistons are responsible for the rest of his contract and will suffer the salary cap hit.
The 6-foot-9, 225-pound forward has averaged 13.1 points, 7.2 rebounds and 4.7 assists while shooting 39.1% from the field, 24.3% from three point range and 46.8% from the free throw line.
In 105 games with the Pistons, the Georgia native averaged 15.5 points, 6.9 rebounds and 3.7 assists per game.
© 2014, Mehka King. All rights reserved.