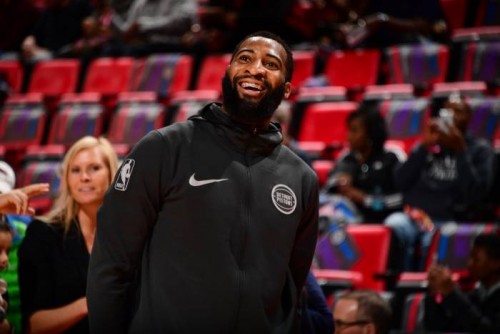 Detroit Pistons big man Andre Drummond won't have to do any in game back flips anytime soon. After joking he may need to start flipping on the court to get noticed for his great play, Drummond is headed to Staples Center for the All-Star game.
Guess I gotta start doing back flips after every point I score to get attention around here!

Lmao on to the next

— Andre Drummond (@AndreDrummond) January 24, 2018
On Tuesday evening, NBA commissioner Adam Silver made the announcement that Andre Drummond would replace Washington Wizards all-star John Wall in the All-Star game as Wall will miss nearly 2 months due to a knee injury.
#DetroitBasketball Center @AndreDrummond has been named by NBA Commissioner Adam Silver to replace injured Wizards guard #JohnWall on #TeamLeBron in the 2018 #NBAAllStar Game. pic.twitter.com/oRrN3QdPyA

— 2018 NBA All-Star (@NBAAllStar) January 31, 2018
This will be Drummond's second selection to the All-Star game. Drummond is averaging 14 points, and a career high 15 rebounds and 4 assist per night this season. What's scary is with Blake Griffin being traded to the Pistons, we may not have seen the best of Andre Drummond yet. Drummond will play on Team LeBron in the All-Star game.
Congrats to Andre Drummond on his All-Star selection. Stay tuned to HHS1987. Follow @eldorado2452 on Twitter and Instagram for all your sports news.
© 2018, Eldorado2452. All rights reserved.