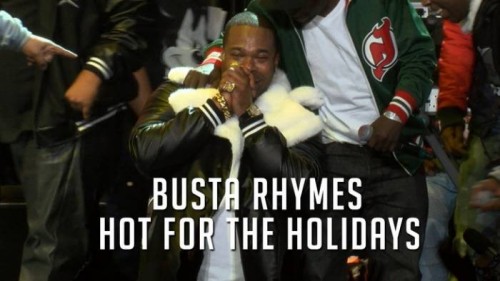 If you weren't in Newark, NJ last night, you missed out on one helluva show. Presented by The Conglomerate & Foot Action, Hot 97 brought Busta Rhymes – and his star-studded list of friends – out on the Prudential Center stage. Celebrating 25 years in Hip Hop, it was only right to spotlight Busta and his never-ending list of hits – and collaborations.
To start the night off, Busta was joined by M.O.P. as they performed their classic turn-up hit, "Ante Up." Sean Paul then hit the stage to add a dash of Caribbean flavor to the line-up, performing singles such as "Gimme The Light," "I'm Still In Love With You," and his collaborative song with Busta Rhymes, "Make It Clap (Remix)." Junior Reid also joined in on di vibes towards the end of the set.
Once the concert heated up, it was really just a non-stop showcase of hits on hits – on hits.
Mariah Carey hit the stage to perform her verses on "I Know What You Want," Noreaga reminded us how LIT the "Super Thug" beat & hook was, OT Genasis shared his infatuation with the "coco," Raekwon & Method Man told us to chase the C.R.E.A.M. and then, the show mellowed out a bit as the Queen of R&B joined Method Man for their classic hit, "You're All I Need." MJB then showed us why she is still the queen with not only her (epic) dance moves but with hits like "Real Love."
As the night continued to unfold, the stars kept coming out. Naughty By Nature, Lil Kim, Fetty Wap, Jeremih, Rick Ross, Jadakiss, Lil Wayne, Spliff Star, Leaders of the New School, A Tribe Called Quest, their surprise guests and more, kept energy levels on HIGH. Diddy, of course, had one of the most epic entrances and sets as he helped close out the concert. Check out some of Hot 97's recap videos below.
© 2015, MariaMyraine. All rights reserved.