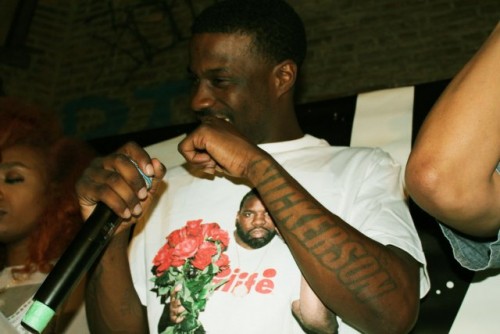 Last night, in New York City, the West Coast was in the building – or should I say, ALIFE's backyard – as Jay Rock held a private "90059" listening party for the people. With ALIFE's backyard at capacity, the TDE representative revealed the track list for his sophomore album. Veteran journalist, Rob Markman, hosted and moderated the special occasion, as he spoke with Jay Rock about the album in between each record.
Notable records on the project include the Kendrick Lamar assisted "Easy Bake," and the title record, "90059." On Track 10, Jay Rock presents "Money Trees pt. II," a solo continuation of "Money Trees," a single he did with Kendrick Lamar back in 2012. Overall, the TDE ringleader, makes two guest appearances on "90059."
TDE's first lady, SZA, was also in attendance last night and quite fittingly, has a guest feature on, "Wanna Ride," along with Isaiah Rashad. Placing emphasis on the importance of Black Hippy's presence on the album, Jay Rock played "Vice City," a bass-heavy record, for the crowd. Rob Markman demanded a repeat, as he yelled, "Run that sh*t back!" Produced by Cardo, each member of Black Hippy – Kendrick Lamar, Schoolboy Q, Ab-Soul – held their verses down. The crowd surely didn't mind the replay.
As we neared the end of the 11-track album, Jay Rock introduced, "Fly On The Wall," which had a surprising guest feature. See below as Jay Rock raps along to Busta Rhyme's verse with Rob Markman. Overall, it seemed as though the night was a success as many expressed their approval of "90059." So now, we wait.
Rob Markman: "What's the release date man?"
Jay Rock: "It's up to the people. Go and pre-order the album now!"
Go pre-order "90059" on iTunes here!
Tracklist:
01. "Necessary"
02. "Easy Bake" ft. Kendrick Lamar
03. "Gumbo"
04. "Wanna Ride" ft. Isaiah Rashad & SZA
05. "The Ways" ft. SiR
06. "Telegram (Goin Crazy)" (prod. Lance Skiiwalker)
07. "90059"
08. "Vice City" ft. Kendrick Lamar, ScHoolboy Q & Ab-Soul (prod. by Cardo)
09. "Fly on the Wall" ft. Busta Rhymes
10. "Money Trees Pt. II"
11. "The Message"
© 2015, MariaMyraine. All rights reserved.