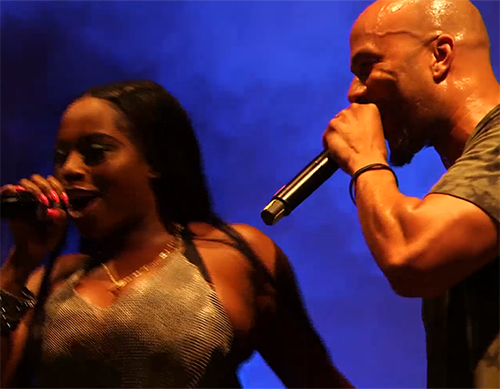 The first placed I moved to out of Chicago was Brooklyn, NY. So I call Brooklyn my second home.
One can only imagine the amount of HYPE the crowd was at this year's Brooklyn Hip Hop Festival yesterday when headliner and closing act, Common, shared his love for Brooklyn – to the dominantly Brooklyn crowd. Rewind to about 8 hours earlier, the gates had just opened to the festival's final day concert. Eleven years strong now, the week long festival consisted of various events, highlighting a different aspect of Hip Hop culture, each day – which all led up to its finale. And like always, a grand finale it was.
The artist line-up included Pitchblak Brass Band, John Robinson & PVD, Stro, Skyzoo, Charles Hamilton, Lion Babe, Consequence and it's three main acts. Of those three, Mobb Deep hit the stage first, along with their tour DJ, Ski Beatz. In their performance, Queens' finest took us through their 20 year journey in Hip Hop since the release of "The Infamous." They revived popular cuts like "Survival of the Fittest," "Shook Ones," "Temperature's Rising" and "Thug Muzik." All of which the crowd rapped along to, word for word.
Queens repped heavy, but it was Philly's turn as Freeway then made his way to the festival stage. While his set was cut short and fan-favorite hits such as "Flipside" were no where to be heard in his set, Freeway brought his usual energy. He even shared the spotlight with his artist, Scholito. Closing out the festival, was Common – but only after an hour wait due to technical difficulties that had concert goers restless (including myself). Despite the heat, sore feet and back aches, it was worth the wait. Common simply did his thing! Hit after hit after hit.. after hit, it really made you appreciate the man's contribution to Hip Hop. Performing cuts like "The Corner," "Testify," "The Light," and "I Used To Love H.E.R." the crowd wanted more. And more was what they got when Chicago's elite brought out Brooklyn's own, Foxy Brown! Her physical asthetics and sound were as if she never aged, as Foxy took us back, performing her guest feature from Jay-Z's 1996 hit "Ain't No N**ga" and her Caribbean-influenced single "Oh Yeah" – which the crowd couldn't resist singling along to, WOYOOOOOO, WOYO-YO-YOOOO!
Check out @yo.itsMyMy's Instagram videos below!
© 2015, MariaMyraine. All rights reserved.