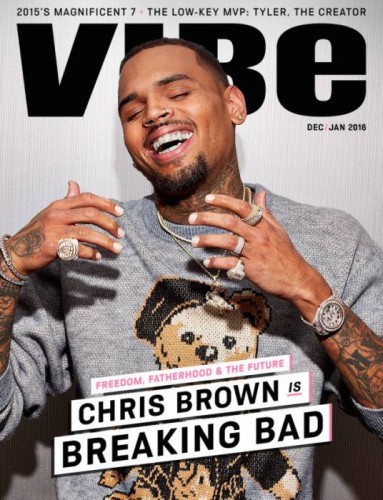 It's been six years since Chris Brown sat down with VIBE magazine for an in-depth interview. Their last meeting turned into a bitter conversation where he felt the mag was trying to tarnish his image in 2009. Fast-forward to December 2015, and the pop star is moving in a more positive direction with his career and personal life. The 26 year old has matured and in that process has been able to reconcile with the publication.
"In the past, I don't think I was able to capitalize fully off of the exposure that was given to me by VIBE," he says matter-of-factly. "And I don't think the direction focused on the road to redemption; it was more so on the controversy and the bulls**t that was going on in my life. Along with VIBE and other various different people and other things, I just separated myself from a lot of negative things, or things that I feel that I couldn't be protected under."
Brown is ready to give it another try with VIBE as they talk about his new album Royalty, dedicating the album to his daughter, becoming a father, his Meek Mill rant and more.
Head over to VIBE to get the full story!
© 2015, Oktane. All rights reserved.