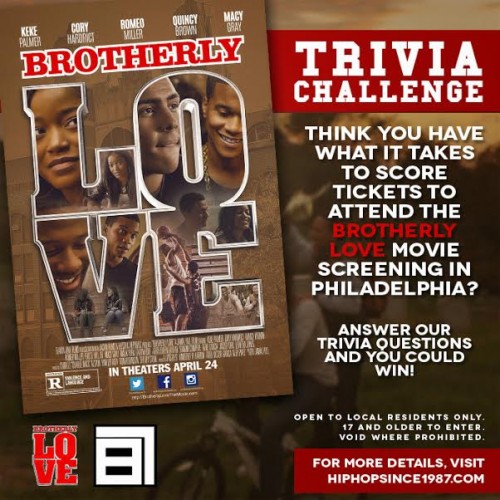 HHS1987 is giving away five pairs of tickets to see the upcoming film, Brotherly Love, private screening Tuesday, March 31 at the Pearl Theater.
We will tweet out one trivia question each of the next five days (3/25, 3/26, 3/27, 3/28, and 3/29) at 1pm EST from our @HipHopSince1987 Twitter account. The first person who is following @HipHopSince1987 on Twitter (so make sure you follow us) and tweets us the correct answer as well as the #BrotherlyLoveTheMovie hashtag in their tweet will win a pair of tickets. We will contact the winner on Twitter with more instructions on the private screening tickets they will have won.
Below is a quick summary on the film and trailer.
Set in West Philadelphia, born-and-raised basketball star Sergio Taylor (Eric D. Hill Jr.) deals with the early pressures of fame. Alongside older brother June (Cory Hardrict), who lost his own hoop dreams to the streets to provide for the family after their father's death, and sister Jackie (Keke Palmer), whose own musical ambitions are sidetracked by love, Sergio faces life-altering decisions on the streets of Philly. The film's cast includes: Macy Gray, Malik Yoba, Romeo Miller, Jay Lewis, Logan Browning, Faizon Love and Teyana Taylor.
© 2015, @BWyche. All rights reserved.