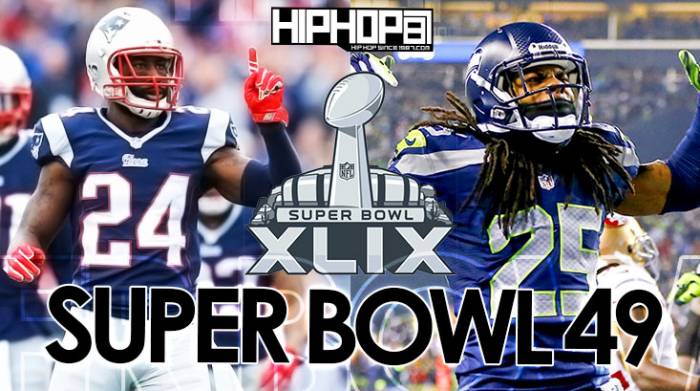 Today, Super Bowl 49 kicks off as the Seattle Seahawks are prepared to New England Patriots and as much of America gets set for a evening of Football, music and good eating we are ready to announce our HHS1987 Super Bowl 49 predictions. We're doing these predictions are little differently. For Super Bowl 49, our sports team decide to collaborate on this article and all include our individual Super Bowl Predictions.
While these are two teams that a lot of people (myself included) do not like, this Super Bowl between the Seattle Seahawks and the New England Patriots is very evenly matched, maybe the closest Super Bowl match up I've ever seen. It's been 10 years since Tom Brady and the New England Patriots won a Super Bowl. Brady will want to win this one bad to tie Brady's Hero Joe Montana, and Terry Bradshaw with 4 Super Bowl rings as a starting QB. Add in the deflate-gate controversy, and the Patriots and Coach Belichick will have a lot of incentive to win this one.  The X-factors for the Patriots will clearly be TE Rob Gronkowski and RB LeGarrette Blount. The Seahawks have struggled against big tight ends like Gronk and Blount will be in for a big game IF the Patriots win.
 
The Seahawks are likely going to need a big game from QB Russell Wilson because the Patriots will definitely try to shut down RB Marshawn Lynch. So if that happens expect Wilson to have a big day both throwing and running the ball in the event the Patriots key in on Lynch. Lynch could have a good second half sealing the victory for Seattle IF they win. The Seahawks physical, fast, and athletic defense will be the X-factor for the Seahawks. They must try to contain Gronk to their best ability and not let Blount run wild. But defenses do win championships.
The Patriots will want to contain Lynch and let Wilson beat them and I don't think that game plan will work out for them. I expect a close and physical game, but even with Gronk having a big game, the Patriots will come up short and the defending champs will repeat because of an MVP performance from Wilson and their defense containing New England's offense.
Justin's Prediction: Seahawks: 23   Patriots: 17
Terrell's Prediction: Seahawks: 31  Patriots: 17
Brandon's Prediction: Seahawks: 20 Patriots: 31
Mehka's Prediction (Who Is A Patriots Fan): Seahawks: Nothing  Patriots: Alot 
© 2015, Eldorado2452. All rights reserved.