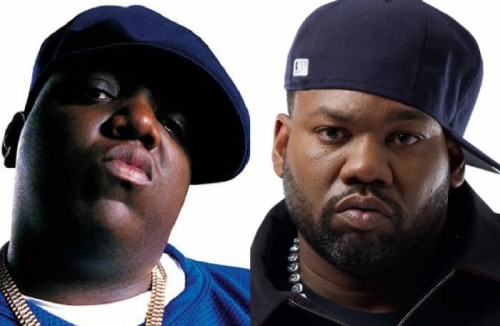 Although the most well known beef within Hip-Hop is most likely the Tupac & Biggie/West Coast vs. East Coast discrepancy, there were some underlying situations that didn't go as widespread still in the mix of "rap beefs"  the Notorious B.I.G. was involved in too.
In the 2002 Nas track, Last Real N*gga Alive, he rapped about them not being able to get along with eachother.
Big was ahead of his time. Him and Raekwon my n*ggas, but dig it, they couldn't get along.
Junior Mafia affiliate, Jacob York, recently appeared on Bossip's "Don't Be Scared". Being a long-time friend of the fallen soldier, it was easy for issues between Biggie & Wu-Tang Clan members to become a topic in conversation. He went on to say:
Method Man was on [Biggie's] album [Ready To Die] so we were all sitting there like, "Huh?" When [Raekwon's Only Built 4 Cuban Linx…] album dropped and we heard the ["Shark N*ggas (Biters)"] interlude… We heard that and we were like, "What the hell was that about?" No one saw it coming. It came out of left field. It got squashed that fast…

You ever notice that [Biggie] never put out a diss record against him? He rapped it. He got it off his chest. He just told me to erase it…

He had to vent. He's an emcee, so he has to vent. He has to get things off his chest. He got it off his chest, and said, "Erase that Jacob. Make sure you erase that." He killed it. He murdered it…

I'm not gonna say [if it was directed at the entire Wu-Tang Clan], but he got a lot off his chest on that record.
Some believe that lyrics on Biggie's Kick In The Door –his DJ Premier produced cut & last Bad Boy album that was a posthumous release, Life After Death–were subiminal shots at The Wu as a whole, and even others, including Nas. York spoke on that matter as well as addressing the longtime rumor that BIG wrote Lil Kim's lyrics. He claims Biggie gave her the flow, but she did her own thing with the lyricism.
He then went on to discuss how Biggie studied Outkast in the recording process of his debut albm. Listen to the full audio of the interview below.
© 2015, Niyah Nel. All rights reserved.