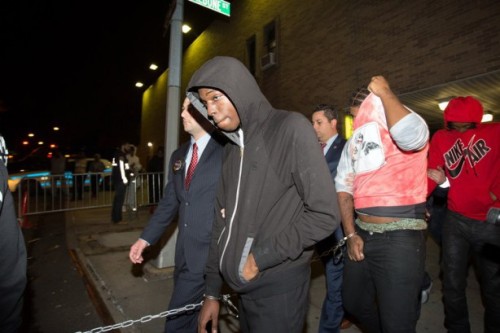 Last month, the "Hot Ni**a" rapper was transferred from Rikers Island to a facility in lower Manhattan. The police want to make sure none of the other offenders would be able to hurt the rapper while behind bars. As we all know, Bobby Shmurda is connected with the Crip gang GS9 and could possibly be approached by rival gang members.
DNA Info New York Reports:
Rapper Bobby Shmurda is being held in protective custody in Lower Manhattan while awaiting trial on conspiracy and gun charges, the Department of Correction said this week.
Shmurda, whose real name is Ackquille Pollard, was moved from Rikers Island to the Manhattan Detention Complex on White Street, where he has been held in a "protective custody unit" since Jan. 15, according to a DOC representative.
Bobby is currently being held on a 2 million dollar bond. If that's not enough to hurt your spirit, his label isn't backing him and on Tuesday, separate gun charges against Shmurda in Brooklyn from June 2014, as well as a drug bust in December, were combined into the Office of the Special Prosecutor's case against him. Things just aren't looking good for the kid, look for more updates as they develop.
© 2015, Oktane. All rights reserved.