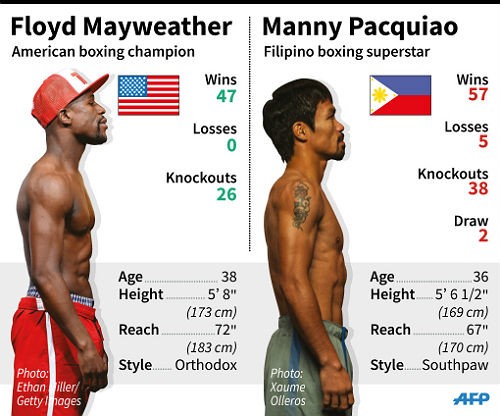 The fight of our generation is finally here, eight-division world champion Manny Pacquiao takes on five-division and undefeated champion Floyd Mayweather tonight on PPV. Both fighters look like they will make well over 100$ million dollars each and the fight should be the highest grossing fight of all-time. And while this is a fight that would have been better/we should have gotten at least a few years ago, it's still better that it's happening now than not at all. The fight has already been a huge publicity boost for the sport of boxing which has suffered greatly in recent years due to various reasons (The emergence of the UFC, lack of a talented heavyweight division, controversy in the sport, etc). With all due respect to Jack Johnson/James Jeffries, Joe Louis/Max Schmeling, and Ali/Frazier, this could wind up being the best of all the "Fights of the Century".
There are many (myself included) who thought this day would never come. Floyd Mayweather avoided fighting Manny Pacquiao for years (sorry Floyd fans it's the truth) but Floyd (who says he plans to retire towards the end of this year) eventually decided to take on Manny after Pacquiao strung together 3 straight impressive wins over Brandon Rios, Timothy Bradley, and Chris Algieri. Outside of the ring, these are almost two completely different human beings. Floyd is a flashy superstar who also has a long history of abusing women,while Manny is a family man, a politician in his home country the Philippines, and a very conservative Christian. Inside the ring however these are two of the best pound-for-pound fighters the sport of boxing has ever seen and this fight is about their legacies. So who will win and why?
Against common opponents (De La Hoya, Hatton, Marquez, Mosley, and Cotto,) Mayweather is 5-0 while Pacquiao is 6-1-1. However while Floyd Mayweather looked better against Marquez and Mosley, Pacquiao looked like the better fighter in his fights against De La Hoya, Cotto, and Hatton, giving him and 3-2 advantage in my opinion. Oscar De La Hoya is on record saying Mayweather will win, while Miguel Cotto thinks Pacquiao will win So who will win this fight and why? Well here's my little fight preview & prediction:
Floyd Mayweather has a lot going for him. For starters he's undefeated and he's taken on all different types of fighters and beaten them. He however hasn't fought anyone that has the combined skills of Pacquiao, so Floyd will have to fight smart and make the necessary adjustments. While Mayweather has also slowed down a bit in the ring (he got hit hard in recent fights) he is still hard to take down and is good at avoiding serious danger in the ring. Floyd wants to keep his legacy in tact, that's what this is all about. Floyd knows that if he finished undefeated and never faced Pacquiao, many would be an asterisk by his name. Floyd wants this win and will be hungry as ever.
Manny Pacquiao also has a lot of things going for him headed into this fight. Pacquiao is still a very hungry fighter and knows his legacy is at stake as well. After getting knocked out by Juan Manuel Marquez, Pacquiao could have seen his career go down the drain, but instead he continues to evolve as a fighter and has gotten stronger in defeat. Pacquiao is also the more powerful of the two fighters at this point, and while I don't see a knock out happening, if it does it will be Pacquiao knocking out Floyd (who i repeat has been hit hard in recent fights). Pacquiao's skills in the ring are also more diverse than Floyd's.
Pacquiao is the type of fighter who can push Mayweather for 12 rounds. Pacquiao also has a combined skill-set that Mayweather has never seen before. Mayweather is the older fighter by two years and that could make a huge difference. Mayweather has also cherry-picked opponents recently who were either not ready yet or not good enough to fight him. Add all this up and that means that Pacquiao wins in a split decision. This outcome will then set-up the rematch for Mayweather's "last fight".
Fight Card:
Main Event:
Floyd Mayweather vs. Manny Pacquiao for WBA (Super), WBC, WBO, and The Ring Welterweight titles.
Undercard:
Vasyl Lomachenko (champion) vs. Gamalier Rodriguez for WBO Featherweight title.
Leo Santa Cruz vs. Anthony Settoul for vacant USBA Super Middleweight title.
Jesse Hart vs. Mike Jimenez (Super Middleweights).
Chris Pearson vs. Said El Harrak (Junior Middleweights).
Andrew Tabiti vs. Brian Holstein (Cruiserweights).
Brad Solomon vs. Adrian Granados (Junior Middleweights).
© 2015, JustinBurkhardt. All rights reserved.