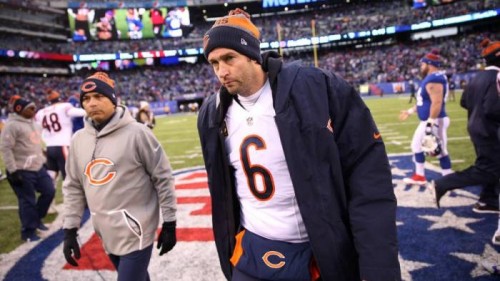 Jay Cutler may have played his last down as a member of the Chicago Bears. The Bears have announced that QB Jay Cutler will have surgery on Saturday to repair his torn labrum in his Shoulder and the Bears have placed Cutler on IR.
According to the Chicago Tribune,
Chicago Bears quarterback Jay Cutler will not return this season, headed for injured reserve with an injury to his right shoulder.

Bears coach John Fox made that announcement after Thursday's practice at Halas Hall.

fter working through an array of treatment options and working to rehabilitate his throwing shoulder, Cutler will now have surgery to repair a torn labrum this weekend.

"I talked to him earlier today. He's in good spirits," Fox said. "It wasn't like (surgery) was never going to be an option. You try to avoid it, especially for a quarterback on your throwing shoulder. But he talked to many capable doctors, like he should. So that's been the determination at this point."

Cutler played the entire game for the Bears in a Week 11 loss to the Giants. He was 17-for-30 for 252 yards and a touchdown but finished the game with a loss-sealing interception. The following day, news of his shoulder problem surfaced and despite Fox's assertion last week that Cutler's injury would not be season ending, it now classifies as just that.

Cutler is currently in the third season of a seven-year, $126 million contract extension. But the $54 million in guaranteed money is paid out and the Bears could part ways with the veteran quarterback at no cost any time before the start of next season. All early indications are that a separation is forthcoming. But Fox declined to answer a question about Cutler's future beyond 2016 on Thursday.
If you ask me, Jay Cutler has seen his last days in Chicago. I can see him in a Cleveland Browns or Jacksonville Jaguars uniform next season. Stay tuned to HHS1987 for more NFL news. Follow @eldorado2452 on Twitter and Instagram for all your NFL and sports news.
© 2016, Eldorado2452. All rights reserved.