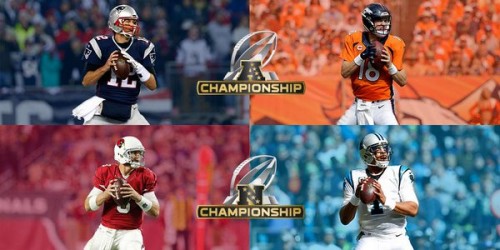 Four teams have made it to this point in the year where one play can be the difference in joy and pain. Four teams are still standing who in June of 2015, came together on a quest to be the last team standing. Four teams remain for a chance to play in Super Bowl 50, and the moment many NFL fans have been waiting for all year is here, the 2016 NFL Championship Sunday!
Today, the New England Patriots and Denver Broncos (3:05EST) & Arizona Cardinals and Carolina Panthers (6:40) will square off looking to advance to the final round and we are in for two good games.
In the AFC Championship, look for the Denver Broncos to come out and surprise the world today. Many football lovers are picking the Patriots in the first game to walk away with a victory. Although Tom Brady is known to perform at his pinnacle in primetime moments, I believe the Broncos are ready for this game. Peyton Manning is still Peyton Manning and it seems folks are forgetting that.
True Peyton's postseason stats aren't the best but how many quarterbacks have been going against the defensive genius that is Bill Belichick. Denver's defense will be huge today sacking Brady 4 times and picking him off twice. Manning will toss 2 touchdown passes (total 315 passing yards) and the Broncos running game will account for a score as well. Tom Brady (total 224 passing yards) will toss a early touchdown pass and won't see another passing touchdown.
In the NFC Championship game, the Arizona Cardinals will face the Carolina Panthers in what I believe will be a high scoring shootout. The Panthers and Cardinals have been two of the NFC's best teams all year and it seemed destine for the two to meet here now. Look for the Cardinals to set the pace early and turn this into a high scoring game. Carson Palmer will get out and pass for 330 yards today and 3 touchdown passes. The Cardinals will look to establish the running game as well but wouldn't get over 95 total rushing yards today.
Arizona's offense producing points will force Cam Newton to be Superman and he will answer the call. Cam Newton will pass for over 300 yards and rush for 67 yards with a total of 3 touchdowns. Look for the Panthers rushing game to be key today. Jonathan Stewart will rush for 130 and a touchdown and the Panthers will advance to Super Bowl 50.
Patriots 17  Broncos 24
Cardinals 24  Panthers 35
© 2016, Eldorado2452. All rights reserved.