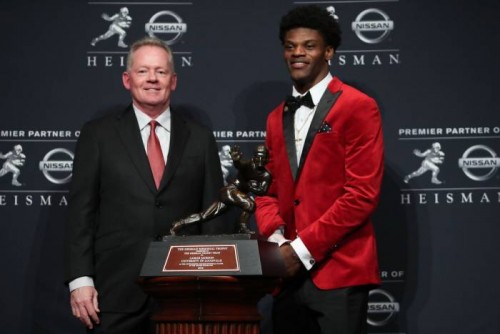 Greatness is never given, it is always earned and saying that, Lamar Jackson's hard work and betting on himself earned him Heisman honors.
Last night, Louisville Cardinals quarterback won the 2016 Heisman Trophy award proving that dreams do come true. Many schools that were recruiting Lamar wanted him to switch his position and play Free Safety on defense. Jackson stuck with his dream of playing quarterback and when University of Louisville gave him his chance he ran away with it, literally!
In his sophomore season, Lamar Jackson scored a total of 51 touchdowns this season, 21 rushing and 30 passing. Jackson has also passed for 3,390 yards and rushed for 1,598 yards. The Louisville Cardinals finished with a record of (9-3) and they will face LSU in the Citrus Bowl on New Years' Eve. Jackson will return to Louisville next season for his Junior year.
Checkout our recent interviews with Heisman winner Lamar Jackson talking on possibly winning the Heisman, his favorite moments during his Heisman campaign and more. Stay tuned to HHS1987. Follow @eldorado2452 on Twitter and Instagram for all your sports news.
© 2016, Eldorado2452. All rights reserved.