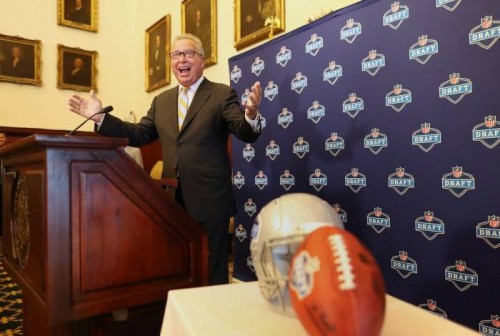 That's right NFL fans, the NFL Draft is on the move again. This time to the city of Brotherly Love. On Thursday afternoon, it was announced that the 2017 NFL Draft will take place in Philadelphia,PA.
According to NFL.com, 
NFL Commissioner Roger Goodell and Philadelphia Mayor Jim Kenney announced Thursday that the 2017 draft will be held April 27-29 in Philadelphia, marking the annual event's third different venue over a four-year period. The 2015 and 2016 drafts were held in Chicago after calling New York home for the previous 50 years. The NFL draft was last held in Philadelphia in 1961, and the first ever NFL draft was held in Philadelphia in 1936.

"Philadelphia is a passionate football town and will serve as a tremendous backdrop for the Draft and provide a great atmosphere for our fans and incoming players," Goodell said. "Jeffrey Lurie has been a strong advocate and supporter of the draft on behalf of the City of Philadelphia throughout the entire selection process. We look forward to working with the Philadelphia Eagles, the City of Philadelphia and the Philadelphia Convention & Visitors Bureau (PHLCVB) to create a week-long celebration of football for our fans."

Although the draft was in Chicago for just two years, it proved to be a successful venue for the three-day event. With an outdoor fan festival called "Draft Town" anchored at Chicago's Grant Park and replete with fan attractions, this year's draft drew an estimated 225,000 fans. The previous year, the draft and its related events drew a reported 200,000. The outdoor fan festival will make its way to Philadelphia for next year's draft.
Stay tuned to HHS1987. Follow @eldorado2452 on Twitter and Instagram for all your NFL and sports news.
© 2016, Eldorado2452. All rights reserved.