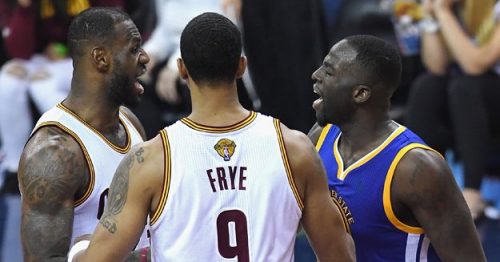 In case you've been under a rock and missed it, Golden State Warriors forward Draymond Green has been suspended for Game 5 of the 2016 NBA Finals.
According to NBA.com,
Through all of the criticism and accusations of dirty play, Draymond Green vowed to keep pushing as hard as he possibly could to help deliver another championship to Golden State.
That win-at-all-costs mentality has suddenly opened the door for LeBron James and the Cleveland Cavaliers to get back into the NBA Finals, and added an extra edge to a burgeoning rivalry.
Green was suspended for Game 5 on Monday night after the league assessed a Flagrant 1 foul for striking James in the groin during a scuffle in the closing minutes of the Warrior's Game 4 victory Friday night.
James and Green got tangled up on the play, and James stepped over Green as the two got up – a move widely viewed as a show of disrespect in league circles. Green then swiped at James' groin in retaliation and threw another jab at the four-time MVP that did not connect.
"There's no way you can say this is an acceptable act," Kiki VanDeWeghe, the NBA's executive vice president of basketball operations, told The Associated Press in a phone interview.
Especially for a player like Green, who entered the finals one flagrant foul or two technicals short of a mandated suspension.
"History probably didn't help Draymond," Warriors center Andrew Bogut said. "When they reviewed it, that's probably what helped them get to their decision."
Commissioner Adam Silver put the hard-nosed, emotional leader of the defending champion on notice before the start of the rematch with Cleveland when he said that the Competition Committee would in the offseason be reviewing Green's penchant for wildly flailing his legs on jump shots and rebounds.
Reports are saying that Draymond Green plans to watch the Finals game from a suite in the Oakland Athletics' stadium, but he may enter Oracle Arena if the Warriors do win Game 5 tonight. Tonight's game should be very interesting.
Stay tuned to HHS1987 for more detail as they surface. Follow @eldorado2452 on instagram and twitter for all your sports news.
© 2016, Eldorado2452. All rights reserved.