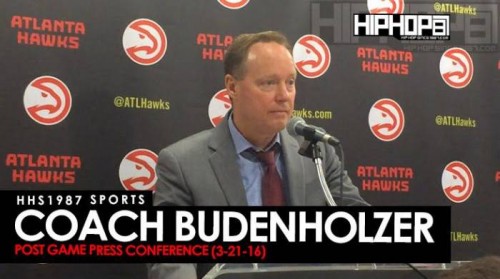 The Atlanta Hawks stand at (41-30) after a tough loss on March 21st to the (35-35) Washington Wizards. The Hawks (117-102) lost to the Wizards ended their 5 game winning streak. Following last night's lost to Washington, Atlanta Hawks head coach Mike Budenholzer addressed the media and spoke on the Hawks poor play in the fourth quarter, John Wall's big night and facing the Wizards again this Wednesday March 23th in Washington.
The Hawks leading scorer on the night was Jeff Teague who was (7-17) from the field with 4 assist. Hawks all-star Al Horford added 14 points on (6-12) shooting with 9 rebounds and 9 assist. The backcourt for the Wizards combined for 52 points. John Wall finished with 27 points on (10-21) shooting with 14 assist and Bradley Beal added 25 points.
The Hawks are back in action Wednesday night in D.C. for a rematch against the Washington Wizards.
This edition of Sideline Stories was presented and shot by Terrell Thomas (Eldorado). The video was edited by Rick Dange.
Follow On Twitter/Instagram:
@AtlHawks
@Eldorado2452
@HipHopSince1987
© 2016, Eldorado2452. All rights reserved.