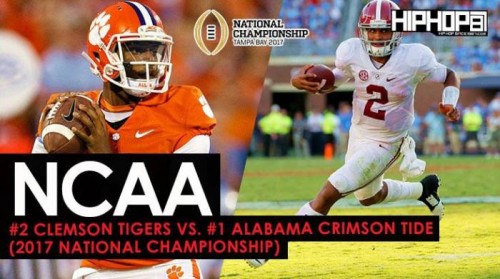 College Football lovers across the World, the day is finally here. We waited approximately 365 days and "The Rematch" is set. #2 ranked (13-1) Clemson Tigers will face the #1 ranked (14-0) Alabama Crimson Tide at Raymond James Stadium in Tampa, FL tonight at 8pm EST for the 2017 NCAA football National Championship.
Last year, Alabama and Clemson faced each other in the 2016 NCAA Title game with Alabama winning (45-40). This year, the Clemson Tigers are looking for revenge.
Tonight look for Clemson to come out poised and focused with a goal of taking the National Championship trophy back to South Carolina. Following their (31-0) victory against Ohio State on New Years's Eve (Dec. 2016), Clemson needs one more solid game from their defense to get the win. Clemson quarterback Deshaun Watson was name the nation's best quarterback this year and for the second year in a row, Watson was a candidate for the Heisman Trophy. If Watson wants to seal the deal on his legacy as possibly being one of the best quarterbacks college football has ever seen, he MUST perform like a champion tonight. Look for Deshaun Watson to pass for over 300 yards, rush for 80 yards and toss 4 touchdown passes. Alabama features a NFL style defense with 6 potential first rounders in the upcoming 2017 draft but I believe Watson is certainly a pro style quarterback who will have high success on the next level.
With the return of Watson's favorite target, wide receiver Mike Williams who missed last years Championship game due to injury is back and in the line for Clemson which helps their offense. Williams is also a Top 5 candidate in my opinion in the 2017 NFL draft and he will display that tonight. Williams will be responsible for 2 touchdowns and over 120 yards receiving. Clemson has one of the most underrated defensive units in the country if you ask me and that was showcased against Ohio State. If Clemson can get a early lead and can force Alabama freshman quarterback Jalen Hurts to pass the ball over 25 times, the game should favor the Tigers.
What more can be said about Nick Saban and the program he has built at Alabama. The Crimson Tide defeated Clemson last year to be named the National Champs and Alabama head coach Nick Saban is undefeated at (5-0) with four victories with Alabama. Alabama has playmakers on both offense and defense but this will be their freshman quarterback Jalen Hurts biggest game of the year and the tide will feature a new offensive coordinator.
Last week, Nick Saban and former Alabama OC Lane Kiffin split ways and now former USC head coach Steve Sarkisian will be calling the plays for the tide. Tonight I expect Alabama to come out passing the ball, looking for their offense to move the ball vertically. Freshman quarterback Jalen Hurts will pass for over 180 yards and rush for over 80 yards. Alabama's running unit will collectively rush for over 150 yards. Nick Saban is known for his defensive presence and Alabama's defense has spoke over the past few weeks on being underrated and disrespected. Alabama's defense will force two turnovers but the key will be if the defense gets in the end zone. If Alabama's defense scores a touchdown, my pick to win the game may be off but I guess will have to wait and see.
I believe this game will live up to the hype and be one the greatest College Football championship games ever. Despite their perfect record, I don't believe the tiding will be rolling to a repeat championship tonight. Look for this to be a close game and not quite as high a score as the 2016 National Title game. I like the Tigers tonight but watch the game within the game between Clemson QB Deshaun Watson and Alabama safety Minkah Fitzpatrick. That could be the difference. I also believe if I'm right and Clemson wins, we will hear the talk of Nick Saban to the Los Angeles Rams or Indianapolis Colts begin. Stay tuned to HHS1987. Follow @eldorado2452 on Twitter and Instagram for all your sports news.
Clemson 34  Alabama 27
© 2017, Eldorado2452. All rights reserved.