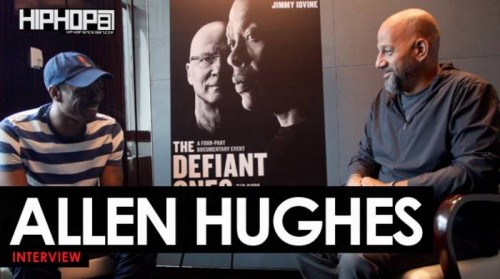 Last week, HipHopSince1987's own E-Money and Rick Dange traveled to New York to link up with one of the biggest and most influential directors of our time, Allen Hughes. Allen Hughes is known for directing some of the most classic movies of our era such as "Menace 2 Society", "Dead Presidents", "American Pimp", and "Book of Eli" just to name a few. We sat down with Allen Hughes to discuss his upcoming HBO docu-series "The Defiant Ones".
Via www.DefiantOnes.com
"The Defiant Ones is a docu-series directed by Allen Hughes following the stories of Jimmy Iovine and Dr. Dre — one the son of a Brooklyn longshoreman, the other straight out of Compton. Featuring interviews with the men themselves and the artists they influenced, the four-part series tracks their improbable partnership and surprising leading roles in a chain of transformative events in contemporary culture."
Allen Hughes talked to HHS1987 about how difficult it was to create this great docu-series, but also about how he learned things that he can apply to his own life from the docu-series. He also spoke about his past films such as "Menace 2 Society" and how the film has impacted the black community as well as the music industry. Allen Hughes also talks about Tupac and the possibility of what he would be doing today if he was still alive, plus much more.
© 2017, RickDange. All rights reserved.