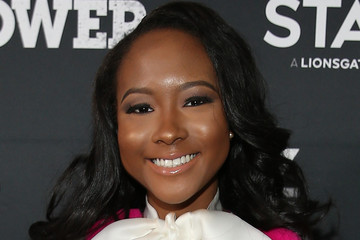 This past Wednesday, September 27, 2017, HipHopSince1987's, Maria Myraine, was invited to Fashion Gxd Magazine's exclusive cover shoot with STARZ Power actress/recording artist, Donshea Hopkins.
If you're a loyal "Power" fan, then you know what went down in Season 4's finale episode! In a sad turn of events, Donshea's character, Raina, was killed off on the show – as a consequence to her brother, Tariq's, stupidity and recklessness. As the Power chapter of her career came to a close, Ms. Donshea Hopkins hasn't slowed down, and doesn't have plans to any time soon.
Appearing on Power 105's "The Breakfast Club," VLADTV, The Source, and a plethora of urban media outlets, Donshea is a budding young star. Looking to expand her career, Donshea has also taken her music to another level.
While in between shots during her closed set photoshoot, we briefly chopped it up with Ms. Hopkins about her experiences on Power, and what we can expect from her, music-wise.
© 2017, MariaMyraine. All rights reserved.