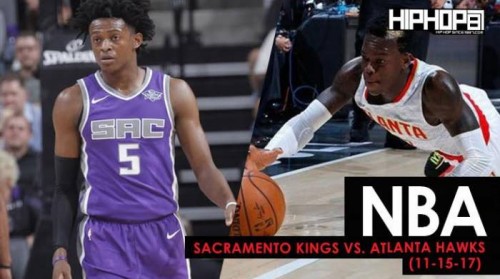 History was made at the Highlight Factory last night.
The Atlanta Hawks picked up their first home win of the 2018-17 NBA season, just their third win of the year but it was a blow out to say the least. The Atlanta Hawks (126-80) victory was the largest victory in Hawks history in either St. Louis or Atlanta. The Hawks set the tone early in the first quarter and they never looked back.
Last night we won by FORTY SIX!

Putting that number into perspective: pic.twitter.com/MGDLixoc7C

— Atlanta Hawks (@ATLHawks) November 16, 2017
Dennis Schroder was the leading scorer for the Hawks but the game ball last night went to Hawks big man DeWayne Dedmon. Dedmon finished Wednesday night's matchup with 20 points and 14 rebounds and he displayed that he has expanded his game beyond the three point line. Rookie John Collins finished with 14 points on (7-9) shooting from the field. Isaiah Taylor added 12 points and Malcolm Delaney and Marco Bellineli both finished the night with 10 points.
.@21savage getting ready for his postgame performance!#TrueToAtlanta pic.twitter.com/aeltKHgbSH

— Atlanta Hawks (@ATLHawks) November 16, 2017
The Sacramento Kings struggled scoring on Wednesday night. Kings veteran big man Zach Randolph was Sacramento's leading scorer with 16 points on  (7-11) shooting. Kings point guard George Hill added 12 points.Kings rookie DeAaron Fox had a off night coming of the bench for just 2 points on (1-4) shooting.
On a night where Atlanta native 21 Savage performed and Philips Arena introduced "Cricket Tacos" the Hawks showed out and picked up their biggest win on the year. The Atlanta Hawks will be back in action on Saturday night as they host Kyrie Irving, Marcus Morris and the Boston Celtics. Stay tuned to HHS1987 for more NBA news. Follow @eldorado2452 on Twitter and Instagram for all your Atlanta Hawks, NBA and sports news.
© 2017, Eldorado2452. All rights reserved.